GAY HOT SPOTS – Spartacus best places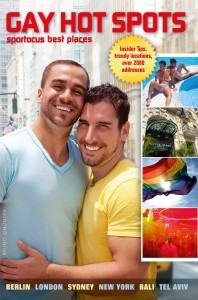 20 Top Destinations for Gay Travellers

"GAY HOT SPOTS leads us to the most popular travel destinations for gay men. After all, we do have some special expectations when we choose the locations for our holidays. Relaxation, culture and flirty guys—we are usually looking for places where we can have it all at once. And for many gay men travelling has become an important part of their lifestyle, no matter whether it's a short trip to a hip metropolis or a long and lazy beach holiday. Hot Spots: Spartacus Best Places" is the perfect addition to the bestselling classic, the "Spartacus International Gay Guide". It presents the 20 top gay travel destinations with detailed texts, alluring pictures and a listing of the best places for the gay traveller.
£11.99 – Bruno Gmunder