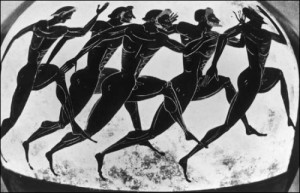 By Alex Wiggan
You know no one really talks about them, you admit that you've not really seen them, but in your heart of hearts you know they must exist; so if that really is the case, then where exactly are all the gay sport stars in the world?  Think about it; every year the BBC broadcasts the Sports Personality of the Year, where all the big names from the world of sport turn up to hob knob with the likes of David Beckham, Jenson Button and Phil Tufnell; yet no one ever seems to talk about all the gay men in sport.  Most people are now familiar with rugby player and openly gay sportsman Gareth Thomas, who has pretty much become the poster boy for homos in the game, but with fit lads up and down the country preparing themselves for a scrum-half, statistically speaking there's got to be quite a few gays out on the field; hasn't there?  It can't possibly be the case that all the gays decided against a career in sport because of being made to do double PE on a wet Wednesday morning or forced to wear an un flattering shorts and polo shirt combo for the cross-country, it's more likely that none have decided to step forward and announce their off-the-pitch ball control because of fear.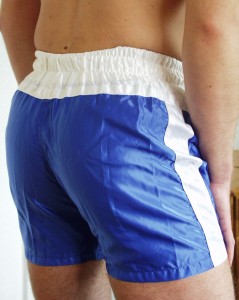 One of the big problems seems to be the nature of the sporting industry in general, where the best of the best compete to be the ultimate champions.  On the outside it's a very macho environment and so coming out and announcing you'd prefer sequins on your shorts would be seen by some, as being a weakness.  Just listen to the jibes, put downs and chants that most footballers are subjected to every Saturday and it's easy to see why none of them sprout handlebar moustaches and suggest playing Diana Ross tunes during halftime.  It's surprising really when you think about it, as after all didn't the Olympians of Ancient Greece get all sweaty rolling around together in the dirt?  Surely that was more gay than a night of cocktails and dancing with Cilla Black?!  It's a tricky situation because most guys at some point have felt uncomfortable when coming out, usually through a fear of being taunted. As a result they wouldn't want to put themselves through a similar situation and especially if they felt that it would be detrimental to their careers. It's the same reason why many Hollywood actors haven't come out, despite constant suggestions that half of Tinsel Town are fans of show tunes. There's clearly an argument about being true to one's sexuality and standing proud for gay rights in sports, but every guy's situation is different and it's their life at the end of the day and their choice.
So it might seem as if finding a gay sportsman in the industry is like trying to find a pair of mating toucans hidden in a Magic Eye picture, but it's often just a case of readjusting to what you're looking at in order to see the bigger scene. There are many gay football teams up and down the country, that may not be world famous but do exactly what the big leaguers can't seem to do, which is basically be open about gay men playing football. Just take the Village Manchester Football Club, one the North West's gay football teams. The club is actually split into two teams with one of the teams playing in the Manchester Accountants Sunday League. Yep, real-life gays, playing real-life football! Then there's the London Titan's Football Club, which if you hadn't guessed, is a gay football club in London and they've even played football in other countries! Oh and it's not just football, the gays (and bisexuals) are even taking over rugby games, just look out for the Kings Cross Steelers RFC, who have been chasing each other around a field for years! There are gay swimming and badminton teams, gay sailing and marathon running enthusiasts, boxers and gay grapplers fighting it out in the ring. There are plenty of gays out there just 'Doing It' (to paraphrase a sports company motto) and, if you want, you can join them. So there may not be lots of sports stars rushing to announce their sexuality, but that doesn't mean that no one is flying the flag for gay sporting heroes. Often it's a game of two halves, so if no one has stepped up to the plate just yet, it doesn't mean they won't in time.