Terry George: Rio Carnival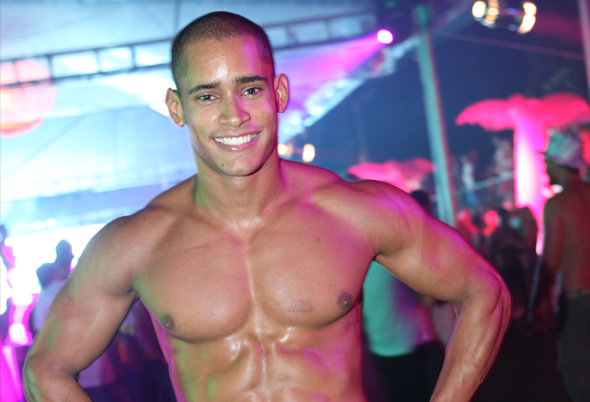 The Rio Carnival looked under threat earlier this year when a fire ripped through the warehouses in the city that housed the famous samba creations. It was said that around 90% of the exotic costumes were destroyed, and, as the teams work on them all year round, some wondered if the parade would suffer as a result. I should have known the resilience of the Brazilian people wouldn't allow such a small thing as a catastrophic fire to stop them from celebrating in the only way Rio knows how… OTT!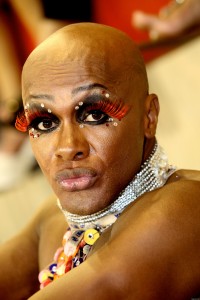 I'm not sure if I've mentioned it before but the groups in their glittering, feathery, silky and brilliantly ornate concepts are not only there to look fantastic, the teams are actually competing for the accolade of 'best in show', to take a piece of Crufts terminology. The top-tier samba schools vie fiercely to have their performance judged the best, which includes the choreography, music and the superb visual spectacle and although there's no cash prize for first place, only a trophy, the winning team have the bragging rights that last a year until the next Carnival.
The weather wasn't the best that I've experienced at past Carnivals but, like the resolute spirit of all those taking part, the public swarmed in their thousands in cheering appreciation. I bumped into superstar Jude Law, best known for playing Dr Watson in the recent Sherlock Holmes movie opposite Robert Downey Jnr and Stephen Fry's plaything 'Bosie' Douglas in the film Oscar Wilde, and asked him just what he thought of the parade: " Truly amazing… I've never seen anything like it in my life." Now chatting to my latest chum he went on to tell me this was his first time and he was only here for the night.
And also in the crowd, direct from her panto season in Liverpool (Oh yes she did!) the glamorous, ex Baywatch star Pamela Anderson surrounded by an army of admirers said: "Spectacular hun… the best… fantastic."
Normally I stay at a hotel in Copacabana but on this occasion I thought… damn it… and eventually I stayed on the gayest of gay streets Rua Farm de Amoeda, in Ipenema. The area was packed, wall to wall, end to end, with people snogging each other's face off… all very full on and incredibly sexy. I am pleased to report my bum was pinched and a few hunky strangers seemed happy to exchange a bit of 'lip-service' as I struggled down the road. It could have been quite an ordeal had I not been having so much fun. A word if you are planning a visit: Ipenema is the gay centre and especially at Carnival, you might find it difficult to get accommodation. They may say it is all full, and it may well be true but, some hotels have exclusive deals with various travel companies, so keep searching you will find something… although don't expect a budget holiday.
All hotels in Ipanema are in a walking distance from the beach. This means less than 5 minutes on foot. Ipanema is a narrow strip of land between the beach and the lake. You will find everything from small family-owned and run hotels, to luxury 5-stars which have had guests such as Madonna.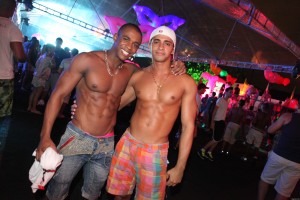 The parade is a noisy procession that at times sends more than just a shiver of excitement up and down the spine. The sheer joy and enthusiasm for Carnival is both contagious and addictive but as they dance through the Sambadrome stadium there are other events that are to be looked forward to… the parties. Pool Party was the most prestigious, a bit like the Circuit party, which appealed to hunks in trunks and boys just out to have a great time. Also there was the Maxim party, which attracted a mixed crowd most with toned bodies that you could tell, like the teams in the parade, they'd been working hard on all year.
However, the entire place is just one big party with events going on all over the place so, here it isn't all about the outrageous and glamorous outfits that are the draw. In fact, it's more the sheer beauty of the guys stripped down to the bare essentials and having a good time dancing to a different rhythm that makes these events such a must-do. It's mesmerising to see so many gorgeous boys throwing themselves with so much passion into a hedonistic carnival that leaves just about all other carnivals in the shade. Rio, recently voted the gayest destination in the world, is THE party capital, every Brazilian, whether from Rio or not, looks forward to it… and so do I.
I'm already planning my trip for next year… hope you can make it.
[photospace]