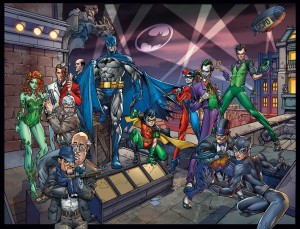 For those who love comic book heroes, there's a new show that should have us all jumping for joy when Gotham City's finest hits the stage this year. The first visually stunning live production to feature Batman and a host of iconic characters and settings from the famed world of DC Comics.
Opening in Manchester in July and visiting a host of arenas across the UK, BATMAN LIVE is an exciting production, complete with a brand new original storyline. The live show will feature Batman, his trusty counterpart Robin, tireless butler Alfred and a host of other favourite Batman characters, including Villains such as The Joker, The Riddler, Catwoman and The Penguin. The story will take place in several settings from the famed DC Comics stories, including Gotham City, Wayne Manor, the Batcave and Arkham Asylum.
BATMAN LIVE will be a totally unique experience. This is not a musical but a high quality live show with a thrilling Batman story, filled with action, that will appeal to adults, teenagers and families… as well as comic book geeks everywhere.
For more information go to batman live