Swedish Soccer star comes out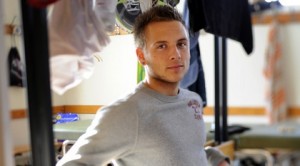 If you missed it the latest sporting star to come out is a young Swedish footballer called Anton Hysen who announced he is gay in an interview with Offside magazine. The 20-year-old, who has been capped for the country's youth team plays for Swedish 4th tier side Utsiktens BK.
He told the magazine today that it was "fucked up" that no other Swedish player had come out yet.
"I am a footballer and gay. If I perform as a footballer, then I do not think it matters if I like girls or boys" . He also admitted that the announcement could affect his career, but pointed out that other players had to deal with issues like racism from coaches and team bosses.
"That is their problem and not mine," he told the magazine. "People may call me anything they want, it will just make me even more psyched. "
Meanwhile, in the Star newspaper, PR guru Max Clifford has said that sadly there are at least two Premiership players who are hiding their sexuality and are in fear of being 'outed'.