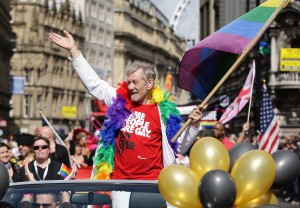 The theme of this year's Manchester Pride parade 'Best of British' was selected from hundreds of suggestions made in a recent poll on the Pride website.
Organisers are encouraging parade participants to think outside the box and be as creative as possible bearing in mind the diversity of British society and culture.
From fashion (Vivienne Westwood, Alexander McQueen) and sport (Louis Hamilton, David Beckham, Amir Khan), to music (The Beatles, The Spice Girls, Queen) and film (Charlie Chaplin, Harry Potter) there is a wealth of ideas to choose from, and a number of different ways in which to celebrate British culture.
Meanwhile, Manchester Pride 2010 has been voted the 'Best Festival or Pride Event' by readers of the Pink Paper – Britain's national gay news portal – for the fifth year running.
The readers of Pink Paper voted for Manchester Pride amongst a strong line-up of UK events including Pride London and Brighton Pride.
Vicken Couligian, chair of Manchester Pride, said: "We're absolutely overwhelmed to have won this award for the fifth time in as many years. It's a credit to everybody involved with the festival from the organisers, volunteers and sponsors to everyone who came to enjoy the event. I'd like to take this opportunity to pay a special thanks to all Pink Paper readers who voted for us and to everybody who helped make last year's Pride another success – we couldn't have done it without their support. We hope you will join us this summer to celebrate our 21st anniversary."
Manchester Pride is the city's annual lesbian, gay, bisexual and transgender (LGBT) festival. This year's event takes place from 19th –29th August and since 2003 has raised £895,000 for local LGBT and HIV charities and groups.