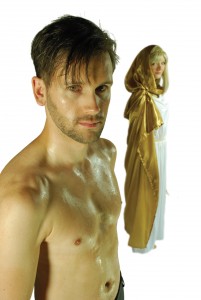 The Merry Opera Company brings lashings of sunshine this month to Highgate with its fresh and lively production of Troy Boy, Kit Hesketh Harvey's translation of Offenbach's La Belle Helene. It will then be touring Southern England until the end of the year.
The action has been transported to suburban England where the beautiful Helen's well and truly fed up with her very boring husband.  So a trip to the local Greek restaurant and an encounter with the handsome waiter from Troy can only lead to trouble!  In the blink of an eye they find themselves in Faliraki, and the rest, as they say, is history!
Director Kit Hesketh-Harvey, who is largely known for his work with Kit & The Widow and regular panel appearances on Radio 4's Just A Minute, has been adapting, writing and translating since 1988.
Upstairs at the Gatehouse: Highgate Village, London N6 4BD
Dates: 9th February to 5th March www.upstairsatthegatehouse.com
Photo: Polly Hancock