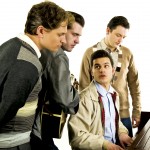 Inspired by the actual event, that took place on 4 December 1956 at Sun Records in Memphis, this ecstatic and engaging musical is a story of fame, friendship, discovery, divided loyalties, professional jealousy and incredible music as four of the music industry's most extraordinary talents, all in their creative prime, made music together for the first and only time in their careers.
This new West End musical, features over 20 classic hits including: Blue Suede Shoes, I Walk The Line, Fever, Great Balls of Fire, Hound Dog, Folsom Prison Blues and Whole Lotta Shakin' Goin' On, tells the electrifying story of the night in 1956 when Elvis Presley, Johnny Cash, Carl Perkins and Jerry Lee Lewis came together to make music and ended up making history.
NOEL COWARD THEATRE – 85-88 St Martins Lane, London, Greater London
Opens: 28th February.