TEN THINGS YOU NEVER KNEW: ABOUT MATT DAMON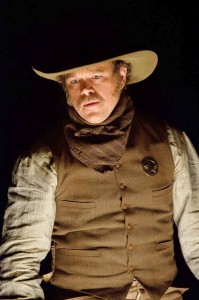 1. Was in a relationship with Winona Ryder (December 1997-March 2000).
2. Dropped 40 pounds for his role as a Gulf War vet in Courage Under Fire (1996).
3. Dropped out of Harvard 12 credits short of graduating to pursue his acting career
4. Both he and Ben Affleck worked as extras on the film Field of Dreams (1989). At one point during the shoot, Matt took some blades of grass from the field as mementos for his father.
5. He is of Scottish, Finnish and English descent.
6. Named "Sexiest Man Alive" by People magazine in 2007.
7. Turned down the role of Harvey Dent in The Dark Knight (2008).
8. One of his first movie roles was a one-line part in Mystic Pizza (1988) starring Julia Roberts. Later, he starred with Roberts in Ocean's Eleven (2001).
9. Quit smoking after visiting a hypnotist in L.A.
10. Named Hollywood's "best value" by Forbes Magazine, with his films making $29 (US) for each dollar he is paid (2007).
This month Matt Damon stars in The Coen Brother's highly regarded Western True Grit out 11th February.