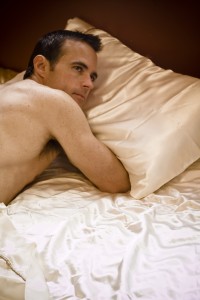 Steve Callahan is rapidly making a name for himself as an actor dear to lovers of gay movies. He's appeared or starred in some of the best and most respected titles in recent years and his latest role is set to win him even more fans.
In Role/Play your character is the older love interest… as a gay man does this development worry you… even a little bit?
Not at all. In 2010 I got offered two of the best roles I've ever had. Besides Role/Play, which you mentioned, I was cast in a film called Abrupt Decision about a man who is fired from his job and goes through a mid-life crisis trying to figure out what to do with the next stage of his life. Both of those characters were really well written, complex men. As an actor, what a treat!
Your character is that of a famous soap star who is straight in the show but has just hit the headlines for being gay… do you know others in the business who worry about this particular prospect?
Absolutely. Unfortunately, Los Angeles is full of gay actors who are playing straight and afraid to come out of the closet. For me personally, I just can't imagine living my life any other way than completely authentically.
I'm not sure if it's as a big a deal to be gay and famous here in the UK than it is in the US, or, as a particularly 'out' gay man yourself, do you see it differently?
I don't know what it is like in the UK, so it wouldn't be fair for me to compare. But I can tell you in the US that we are in a time of change, where barriers of sexuality are changing. As public opinion and legal protections begin to change, attitudes in Hollywood are following.
You've made several gay movies now, which was your favourite to work on?
Each experience is so different and my favourite is always the one that I'm currently working on, so I don't think I could pick a favourite. So how about if I narrow it down to a few that have been special to me?
Nine Lives – I originated my character in the stage play complications that Nine Lives was based on. It was really exciting to tackle the same character twice, in two different mediums.
East Side Story – By far, this is the movie that I get the most fan mail about. People really love this movie. I knew we were making something really special when we were filming. I loved the cast and have such great memories. It was my first lead in a movie. The movie sat on the shelf for a couple of years, so it was exciting to see it become such a success after it finally got distribution. When it won the GLAAD award, I got to go on stage (along with Charo Toledo, the co-screenwriter) to accept. It was such a thrilling night.
Role/Play – What a magical experience! I had wanted to work with Guest House Films because I am such a fan of their films. Rob Williams (the writer and director) wrote such a smart script and gave me such a great character to play. But best of all, I got to act opposite Matthew Montgomery, who is not only my boyfriend in real life, but is also the most talented actor working in film today. I loved every minute of that experience.
Abrupt Decision – Paul Bright (the writer and director) offered me this wonderful, challenging character to play. The character is in all but a couple of scenes. I was really honoured that he trusted me with the part. It was the first time that I was on location filming in a different state (Texas) where I didn't know anyone before filming began. The script called for me to constantly be working with dogs, sometimes as many as a dozen in the scene. I really had a blast.

Corpus Christi – For four years I was part of the International Tour of the Terrence McNally play. We were filmed for an upcoming documentary called Corpus Christi: Playing With Redemption. The play challenges people to look at homosexuality and religion. It is the most important thing I've ever worked on.
Pornography: A Thriller – I absolutely love this film. This is the movie that I met my boyfriend on, so it changed my life forever. So I guess this movie wins as my favourite because it brought Matthew into my life.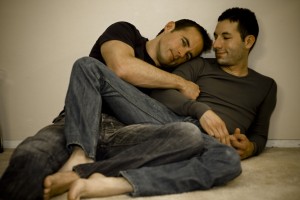 Who, apart from your partner was your favourite co-star?
James Brandon, who played Jesus opposite my Judas in the play Corpus Christi. We did the play for four years, starting as strangers and ending as family. We made magic together on stage and changed lives. His performance blew me away every night for four years.
You've been asked to do sex scenes, fight, kiss… but is there anything you'd draw the line at?
I've never done full frontal nudity. If it were just in the context of the movie, I'd have no problem. But we live in a very strange digital age where everything is captured forever. When actors do nude scenes, they are added to websites where people look at a single frame of the film and comment on actor's penis. That is just too weird for me. Just a personal choice that goes beyond my comfort level as an actor.
Alternatively, is there a part you'd kill to have… or something you wish you were asked to do that no director or script has yet come up with?
I want to do an action movie really badly. I'd also love to do a horror film.
What else can we expect to see you in this year?
2011 is going to be an exciting year for me. I have three films coming out: Role/Play, Abrupt Decision, and Corpus Christi: Playing with Redemption. For all the latest news and release dates, people can check out my website:
and join my Facebook page:
www.facebook.com/SteveCallahanActor
---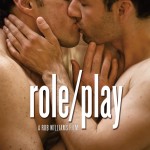 Role/Play
Two young gay men, both on the run from the tabloid press, meet in a Palm Springs resort in Rob Williams' new film Role/Play. When hunky soap opera star Graham Windsor (Steve Callahan) is outed as the result of a gay sex tape scandal, he seeks refuge at an exclusive Palm Springs resort. But quiet anonymity eludes him when handsome marriage-equality activist Trey Reed (Steve's real life partner – Matthew Montgomery) checks in to escape the fallout from his own bitter divorce. As an undeniable passion begins to sizzle between Graham and Trey, they force each other to confront their professional downfalls – and the firestorm each has created in the gay press
Out: 7th February – £15.99 – tla releasing
To be in with a chance of winning a copy of this fantastic DVD, just answer this simple question:
In which American state is Palm Springs?
---
Bent Magazine Prize Draw Terms & Conditions
1. The prize draws are open to UK residents aged 18 and over. 2. No purchase is necessary. 3. Only one entry per person is allowed and multiple entries will result in an entrant being disqualified. 4. The deadline for receiving entries for the competition is the last working day of the magazine's month. 5. Winners will be notified within 28 days after the competition closes. 6. Proof of delivery or email will not constitute proof of entering the prize draws and no responsibility will be accepted for lost, corrupted, delayed or mislaid entries. 7. The winner(s) will be the first valid entry drawn at random. 8. Bent reserves the right to substitute the prize for another prize of equal value. 9. There are no alternative cash prizes. 10. Bent Magazine's decision is final and no correspondence will be entered into. 11. When you enter a prize draw, your details will be used to provide you with updates, information and promotions from Bent and other members of APN Ltd. You can opt out at any time by following the Unsubscribe link on the bottom of every email or by sending an email to unsubscribe@bent.com asking to be removed from our mailing list. 12. By submitting an entry, all entrants acknowledge and accept these terms and conditions. By taking part in any prize draws or competitions, you agree to be bound by these rules and the decisions of Bent Magazine which are final. 13. Bent Magazine reserves the right to disqualify any entrant and/or winner in its absolute discretion for any reason and without notice.