Pride Maspalomas in the Sun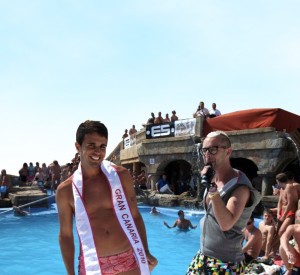 2011 is the 10th Anniversary of GAY PRIDE Maspalomas. To celebrate this unique Pride, on the beautiful island of Gran Canaria, this year, the festival is 10 days long.
Gran Canaria, a round volcanic island in the Canaries, middle of the Atlantic Ocean, off the coast of Africa, is the perfect place to enjoy Europe's annually first Gay Pride – WHY ? It has the Sun, 345 days a year, glorious sandy beaches, ancient historical architecture and mountain villages, and lets not forget the men – oh the men. As Europe`s leading Gay Tourist destination, Playa del Ingles in Gran Canaria is always swarming with men, but Pride brings an extra 100thousand !!! In recent years, there has also been an increasing Lesbian and Transgendered boom.
Pride starts with the Opening Ball on 6th May on the huge Terrace of the Yumbo Centre, followed by a dance session on Saturday leading into a retrospective show, featuring Hazell Dean, Angie Brown and Jose Galisteo. Sunday opens with the Lesbian Pool Party, including the Ms Lesbian Gran Canaria Competition, with DJ`s, go-gos and acts including Jo Frances, Laura Harding and Patricia Kraus. Sunday has another free stage show in the Yumbo, the Island Night, featuring regular visiting acts to the island and local artists; Tania Alboni, Scott Dean, Eva La Diva and Wayne Newton.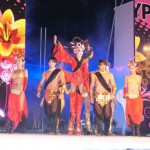 Monday 9th May – sees a return to the normal Pride week with street entertainment by the Canarian Samba Band and the e-sensual dancers and acrobats. Tuesday hosts the Camp Attack party fundraiser, Huge PARTY !!! It rounds off a day of PINK – Pink Tuesday is our Breast Cancer Awareness Day. Wednesday 12th is the official Giant Pool Party with Mr Gay Gran Canaria Competition – 1,000 men squeezed into their trunks at the Las Walkirias hotel. Thursday is AIDS Awareness Day ! Beginning with BLUE – Sponsored by RICKYS Cabaret Bar, Drag With No Name (Scott Burey) leads us through and afternoon of comedy shenanigans, followed by in the evening the ACES show, our Charity show raising funds for our local AIDS and HIV Charity.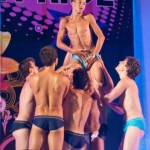 Then the big 3 ! Friday 13th is the International Drag Gala Competition, Huge Prizes, Guest Stars; Soraya and Sam Solace. Saturday – Street Dragathon World Record Attempt, followed by the Huge Street Parade, Then the 10thousand people dance session followed by the final free concert; Tight Fit, Jo O`Meara, Adam Rickitt, Dunia, Junior, Danny Ullman, Carol Jiani, Ruth Lorenzo to name half … more big names to be announced. Sunday 15th is the Closing Party – A huge Dance Session PARTY – Thousands squeezed into the Yumbo with top DJ`s Zak Hadley, Johannes Naumann and Closing Pride will be Dani TORO and all the sexy e-sensual dancers.