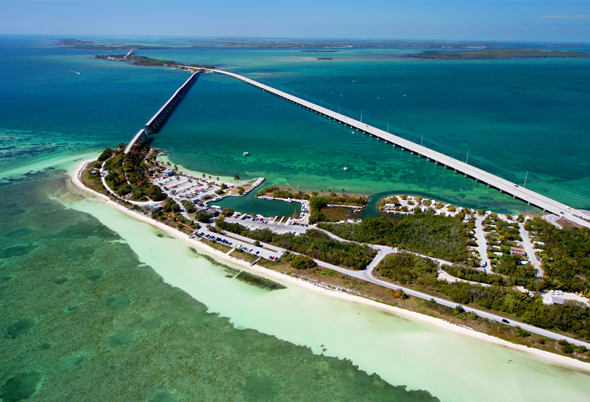 …and the day Elvis kissed me!
By Gordon Hopps
It was many years ago when I first went on a trip to Key West and I absolutely loved it.
The drive from Miami airport, down through Homestead and on to Highway US1, the Florida Turnpike, which takes you all the way south to the very end of this vast country can be very exciting. Once on the Keys the journey down the a hundred and odd miles is most spectacular and, with Key West as the ultimate destination, the drive can be shot through so quickly that you miss out on some splendid experiences.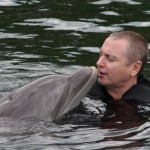 On this trip I planned a slower journey. Once in the car I drove down to my first stopping point in Key Largo to do something I'd always wanted to do – I booked into Dolphin Plus and organised a chance to swim with these intelligent mammals. What an absolute treat. I spent an amazing couple of hours watching and then swimming with two of these ever-smiling creatures, Elvis and Nico. The lifted me, they splashed me and at one point… Elvis kissed me… a memory that will stay with me for a very long time.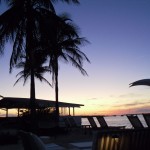 So as not to rush my journey south or drive through the dusk (and miss all the astounding views as you go over the many interconnecting bridges) I stayed overnight at the wonderful Casa Morada on the next Key down, Islamorada. Just off the main road, this elegant and up-market little complex opened up to the Gulf of Mexico for a truly wondrous sunset. It was like a view from the best tropical photo-shoot ever and I immediately fell in love with the place.
In the early morning sun I set off south and enjoyed the journey stopping off at various places of interest to see, or eat … check them out on the travel guide as it is a great shame to speed past them without at least a look. Many people have waxed lyrical about Florida's Keys and I would also like to add my own accolade to the sheer architectural achievement of the way all these wonderful little islands have been linked together. Those early pioneers and later technical bods have produced something that would not disgrace being included in a more up to date version of the Seven Wonders of the World.
Thanks to these bridges you're skimming high above where two huge bodies of water meet in a kaleidoscope of blues, greens and turquoise. Where little mangrove islands host birdlife and the crystal clear sea offers a chance to glimpse coral and a multitude of aquatic creatures… it's a lot to take in… so don't rush that drive to the southernmost tip of America.
When you do arrive in Key West you'll know… as you can't go any further without getting very wet but the place is, and has been, a playground for the rich and famous for many years. The likes of author Ernest Hemmingway made his home here, as did the playwright and all-round gay god, Tennessee Williams, plus all their sporting and film star friends. The place is a bustling tourist centre but still maintains many of its charming characteristics and for the gay visitor in particular is an ideal spot for a vacation.
There are many terrific gay owned and operated businesses in Key West, indeed, it is said that without its gay population, nothing would happen on this small, but influential, isle. There are many superb, award winning gay guest houses to chose from – all seem laid back and well equipped, some near to the action on the main drag, Duval Street, while other are slightly further out and more private in nature. There is a place for just about every taste and I booked into the 24-hour happening that is Island House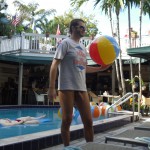 at the top of Fleming Street. This is an all-male complex with everything; gym, sauna, Jacuzzis (inside and out), heated pool (that never closes), bar, restaurant, internet… and a video room for those who like to explore with their fellow guests. It's a clothing optional establishment but don't let that worry you, two minutes after I nervously arrived I was frolicking in the pool naked myself. The view from my window was also stunning. All the staff are friendly and very helpful; as they are in all the gay resorts, so don't be afraid to ask them for advice, directions or to book your exciting gay activity. So whether naked or clothed… this is a terrific spot to start your Key West experience.
The marvellous thing about Key West is that it certainly caters for its gay guests. The gay only sunset cruise is wonderful to see, couples (and groups of guys) happily kissing and toasting each other's health while watching the sun go down. The same company – Blu Q under the direction of Captain Steve and his crew – also organise gay snorkelling, sailing and island adventures (occasionally naked) should you want to stay with your own kind. The mood is always relaxed and fun and if you're lucky like I was on my trip, you may be accompanied by a couple of dolphin pods as you lazily sail around the bay. Being gay in Key West is the norm… so everywhere on this island it's OK to be gay… and although there are no specifically gay beaches, there are areas where all the boys go to toast their skin that lovely shade of brown. Just ask at the desk or get hold of a copy of the Gay Key West map to get your bearings.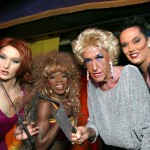 Along Duval are the main gay bars where drag seems to be very popular – Aqua and 801 – although you can escape the feathers and sequins at any number of watering holes that make up this hectic street… like the Bourbon Street Pub just across the road from 801.
Eating delicious food is also no problem whether you go local or international:
Perhaps an early morning breakfast at Harpoon Harry's
or try one of the best prime steaks I have ever eaten at Duffy's
maybe an upmarket evening meal at Square One or Antonias or the latest restaurant to receive rave reviews, Flaming Bouy Filet Co – You'll never be at a loss for eating well in Key West – many of the restaurants are gay owned and run and it seems that there is a cute busboy or waiter to attend to your culinary needs.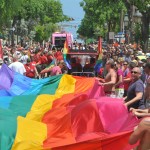 There are many other gay events, such as the weekly gay trolley ride but throughout the year the island also offers huge events that attract thousands and thousands of gay visitors.
Key West Pride
Key West Bear Fest
Tropical Heat
Headdress Ball
Gay Spring Break
Bone Island Bare it All
Womenfest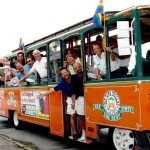 An interesting fact that I didn't know was that Key West is actually a translation from Spanish-speaking people who used the term Cayo Hueso – it literally means "bone key" so a trip of the fun ghost tour is a must.
To get a brochure and map telling you of all the things you can expect from this brilliant sun-drenched piece of heaven: www.gaykeywestfl.com
My thanks go to all the staff at Florida Keys & Key West tourism and in particular Stephen Smith www.keysvoices.com/lgbt/ for his organisation, help and friendship during my visit.