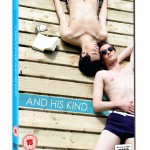 CHRISTOPHER AND HIS KIND
Christopher and His Kind tells the story of the young and wide-eyed Christopher Isherwood (Matt Smith, Doctor Who) who escapes the repressive society of 1930's Britain and arrives in the decadent and politically unstable world of 1930's Berlin. A time of a thriving cabaret scene, Christopher is submerged into a thrilling and intoxicating gay sub-culture and a journey of self-discovery.
Based on Isherwood's autobiography and adapted for the screen by acclaimed playwright Kevin Elyot, this bold new drama follows the life, love affairs and heartbreaks of middle-class Englishman, Christopher in 1930's Berlin.
Out: 28th February – £19.99 – ITV STUDIOS Home Entertainment
To be in with a chance of winning a copy of this fantastic DVD, just answer this simple question:
Matt Smith plays which BBC TV sci/fi Doctor?
---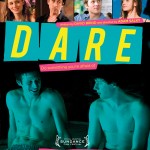 Dare
Drama queen Alexa and gay geek Ben are best buds, but their friendship is put to the test when the mysterious and handsome Johnny is cast as the lead in their high-school production of 'A Streetcar Named Desire'. Johnny, who is seemingly attracted to them both, becomes ever more confused as to who he really wants. As sexual tensions reach boiling point, a fascinating love triangle closes in with electrifying results. Gradually, Johnny's sexual identity becomes unhinged, leaving Alexa and Ben to face up to their desires and accept that it takes more than just a truth, a dare, and a threesome, to get what you really want from life.
Out Now – £14.99 – Peccadillo Pictures
To be in with a chance of winning a copy of this fantastic DVD, just answer this simple question:
Who wrote 'A Streetcar Named Desire'? A. Tennessee Williams, B. Shakespeare, C. Russell T Davies
---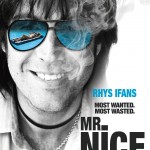 MR. NICE
During the mid 1980's, Howard Marks had 43 aliases, 89 phone lines, and 25 companies trading throughout the world. Bars, recording studios, offshore banks: all were money-laundering vehicles serving the core activity of dope dealing. Marks began to deal during a postgraduate philosophy course at Oxford University, and with the help of drug pushers started dealing hashish throughout Europe and America in touring rock bands' equipment. The academic life began to lose its allure. From a South Wales upbringing to a lifestyle of smuggling consignments of up to 30 tonnes from Pakistan and Thailand to America and Canada, Marks had contact with organisations as diverse as the CIA, MI6, the IRA and the Mafia.
Out now – DVD & Blu-ray – entertainment one
To be in with a chance of winning a copy of this fantastic DVD, just answer this simple question:
What do the letters CIA stand for?
---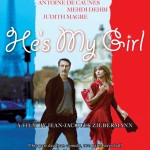 HE'S MY GIRL
Director Jacques Zilbermann revisits the life of a French Jewish musician, Simon Eskenazy (Antoine de Caunes), who was first introduced to the audiences in his previous directorial feature Man is Woman (1998). The film opens at the point of Simon's life where everyone important to him in his life appears to be crossing paths, not always in the most pleasant of ways. He is under the pressure of deadline as he is supposed to finish his record; his mother is wheelchair-bound and shows up suddenly at his door with a suitcase and does not appear to plan to leave any time soon; he is utterly bewitched by the amazing and unpredictable, exciting Naim, a young Arab who seems to flit between the persona of a man and a femme fatale with incredible ease.
Out: 14th February – £15.99 – Network Releasing
To be in with a chance of winning a copy of this fantastic DVD, just answer this simple question:
What was the name of the sexy British TV series fronted by Antoine de Caunes?
---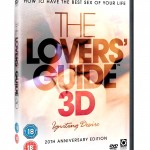 Lover's Guide 3D

Twenty years after the original The Lover's Guide exploded into the lives of the UK public, the ground-breaking guide is back with another no-holds-barred exploration of the pleasures of love-making. And this time it's in 3D!
To mark the anniversary of the series which has brought adult sex advice firmly into the mainstream, the latest instalment has been created using cutting edge 3-D technology as the next stop in the sexual revolution. Here the audience is engaged with a never-before-seen sense of intimacy and massively richer viewpoint. Featuring the voices of Gemma Bissix and Jeremy Edwards and will take audiences to an altogether new level of love-making enlightenment. Straight but still fun
Out: 7th February – DVD & BluRay – Optimum Releasing
To be in with a chance of winning a copy of this fantastic DVD, just answer this simple question:
How long ago was the original Lovers Guide video launched in Britain?
---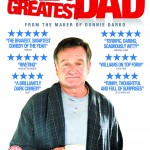 WORLD'S GREATEST DAD
In this dark comedy unpublished author Lance Clayton (Robin Williams) is a hapless single father who has let life pass him by and his dreams of being a rich and famous writer have dispersed into the reality of being a high school poetry teacher. Lance has surrendered to life and learnt to settle with second best. His only son Kyle is an insufferable teenager who won't give his father the time of day. Then, in the wake of a freak accident, Lance suffers the worst tragedy and the greatest opportunity of his life. He is suddenly faced with everything he ever dreamed of, if he can only live with the knowledge of how he got there.
Out Now – Universal Pictures
To be in with a chance of winning a copy of this fantastic DVD, just answer this simple question:
In which movie did Robin Williams play a 'female' housekeeper?
---
Bent Magazine Prize Draw Terms & Conditions
1. The prize draws are open to UK residents aged 18 and over. 2. No purchase is necessary. 3. Only one entry per person is allowed and multiple entries will result in an entrant being disqualified. 4. The deadline for receiving entries for the competition is the last working day of the magazine's month. 5. Winners will be notified within 28 days after the competition closes. 6. Proof of delivery or email will not constitute proof of entering the prize draws and no responsibility will be accepted for lost, corrupted, delayed or mislaid entries. 7. The winner(s) will be the first valid entry drawn at random. 8. Bent reserves the right to substitute the prize for another prize of equal value. 9. There are no alternative cash prizes. 10. Bent Magazine's decision is final and no correspondence will be entered into. 11. When you enter a prize draw, your details will be used to provide you with updates, information and promotions from Bent and other members of APN Ltd. You can opt out at any time by following the Unsubscribe link on the bottom of every email or by sending an email to unsubscribe@bent.com asking to be removed from our mailing list. 12. By submitting an entry, all entrants acknowledge and accept these terms and conditions. By taking part in any prize draws or competitions, you agree to be bound by these rules and the decisions of Bent Magazine which are final. 13. Bent Magazine reserves the right to disqualify any entrant and/or winner in its absolute discretion for any reason and without notice.