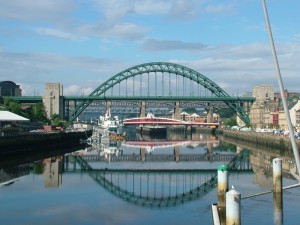 This month Geordie boy Gareth Longstaff takes us on a guided tour of Newcastle upon Tyne and what it has to offer…..
In the last decade or so Newcastle-upon-Tyne has more than successfully shaken off its reputation as a straight, macho and aggressive place where inebriated slag's fall out of taxi's and wide boys slurp on Brown-Ale in theme pub after theme pub. The city has always had a unique but somehow isolated identity, and Geordies have been accused of portraying themselves as an inherently tribal lot who are too far removed and out of touch with their Southern (and indeed Northern) neighbours. However, this has now changed; the notion of it still being 'grim up North' and the associations with deprived working class bigotry have gradually disappeared and it now sits comfortably a long side many of its well known Northern counterparts such as Manchester and Leeds to represent all that is emblematic of a post-industrial, cosmopolitan, edgy, vibrant and incredibly friendly gay city. Still to many of us it may seem a bit out of the way. It is the last major port of call before you reach Edinburgh or Glasgow and it stands out in comparison to the other smaller and very local gay scenes in Sunderland and Middlesbrough. Surprisingly for a region so clued into regeneration, history and education even close-by tourist destinations such as Durham and York totally lack any real sense of gay social life and dare I say community! Paradoxically this is a great thing for Newcastle in that it attracts a huge range of gay people from just about every walk of life (excuse the somewhat tenuous but nonetheless embarrassing Dire Straits reference). The young, affluent and huge student population help with this and a diverse range of local ghetto and the uber-cool mixes together; Cheryl Cole lookalikes strut the streets by day, and by night they gyrate next to bespoke aristocratic hotties from the University (Princess Eugenie studies here and resides in the nearby suburb of Jesmond). In terms of the gay social and cultural life on offer there is something for all of us, although the main destination in the city is just west of the Central Station in an area that has gradually expanded to about 20 gay /lesbian venues. Known locally as The Pink Triangle, it follows the logic and power of the pink pound and ticks all of the boxes in terms of clichés and cliques as well as offering a cross section of alternatives. Locals and tourists tend to populate the bars, clubs and restaurants from Thursday to Sunday and the students call the city their own during the week, saying that everyone tends to mix and the once clearly defined pockets of gay and straight are bleeding into one another more and more; how far this is appealing or problematic is up to you and if you only want GAY you can certainly get it. For drag-queen camp and cheese try Eazy Street, Bank Bar and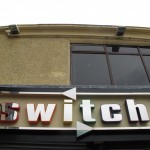 Switch which are packed to the plasterboard with pretty boys, handsome men and often gangs of straight girls who have become disillusioned with what the mainstream bars have to offer them. Transient fashion trends and high-street chic are big news in this neck of the woods and recent developments in big brand stores and savvy little boutiques offer some of the most eclectic retail therapy in the UK. Fenwick menswear department for most designer labels and a shiny new TopShop really stand out as do locally run places like The End, Union and Leaf. Just 10 minutes on a shuttle bus and you are at the Metrocentre which still lays claim to being the largest shopping centre in Europe so there no excuses not to compete with the locals and look fabulous. Still, for those of us who don't always dress to impress and prefer Primark to Paul Smith and our diet coke with house special vodka rather than Sailor Jerry there are lots of bars that attract an interesting mix of queers and a very eclectic and still fairly discerning crowd. The oldest bar on the scene is The Yard which hosts karaoke and is often a starting point for both gay men and lesbians whilst others such as One, Twist and Heavens Above fill the gap of passing through for a swift one.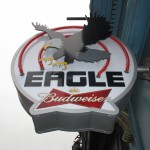 The Eagle is a bar which offers the bear and fetish crowd a sleazy and sexy time and there are dark rooms and a downstairs cruising space. Along with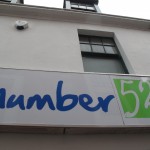 Number 52 Sauna next door and the recently opened REM sauna on Blandford Street it means if the beer gets you horny or your Grindr isn't working you are not far away from the next bit of casual fun. The main nightclub is The Powerhouse which opens every night and packs in a couple of thousand over four floors and in November a brand new venue calling itself Boulevard will also open its doors; an unashamedly glamorous combination of cabaret, drag and burlesque this is demonstrative of just how far gay Newcastle has come and the direction it is headed in. Activism and awareness are also part of the landscape and the help and network group Mesmac offers a huge range of support in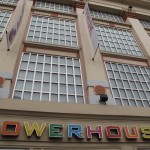 relation to sexual health, mental well being and acceptance. Northern Pride also is the organised gay pride events all summer long in the city and the aim is to expand this so it is on par with much bigger and well known pride celebrations. Beyond the conventional gay scene some very tolerant establishments such as As you Like it and Mr. Lynch's in Jesmond and Hyem in Heaton are more chilled out and relaxed; great for food and in many ways less intense. Also just a 10 minute bus ride from the city centre pubs such as the Cluny and the Tanners go for a more bohemian and gig-focussed scene. Check out the Star and Shadow cinema (opposite The Tanners) which have regular gay nights and film showings, they also run a queer film collective club. Bars such as The Forth, The Dog and Parrot, restaurants like The Salsa Café, Gusto, Café Paradiso and other newly established club nights such as the gay run POKE at The Kings Manor and Dragnet at the Cut are incredibly open, stylish and slightly less stereotypical in terms of their gay clientele. A jewel in the crown of gay Newcastle life which has welcomed the community for decades is The Tyneside Cinema and the splendid coffee rooms – a well informed, quirky and sexy crowd tend to be drawn to this space which offers another option to mainstream venues. So then, Newcastle does just what it says on the tin; there is very little in terms of pretence or elitism, instead you get an honest, warm and pretty unique sense of a city which demonstrates that far from being grim, it is, as any local would tell you, purely belta.
For more information visit – Newcastle gay