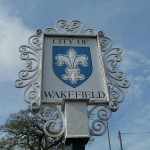 Due to the greater acceptance of homosexuality (not a bad thing by any means) the numbers of people hitting the gay scene has declined. Add this to the fact that the economic climate has left us with all with a financial hangover and you get a state where the LGBT pubs and clubs are struggling and competing more than ever to survive.
GayWakefield hopes to buck this trend and stop the fragmentation of Wakefield's LGBT community before it is too late. GayWakefield.com, Twitter, YouTube and Facebook hopes to bring the Gay community and Scene together in one place and under one banner.
Gay Wakefield goes live 05.02.11!