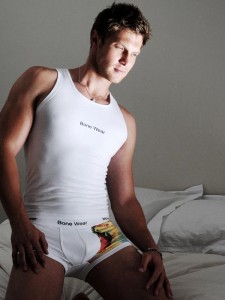 The Mr Gay World competition is under the spotlight because of a South African bid to hold the event in 2012. With all the anti-gay abuse and legislation from some of the most repressive regimes on that particular continent who seem overly keen to align themselves with the conservative right, it would prove a very controversial decision should it happen.
In an article in the Guardian it was pointed out that the current Mr Gay World is South African Charl van den Berg (pictured) and it is his success that has spear-headed the submission. Coenie Kukkuk, a Pretoria lawyer who is the director of South Africa's bid to host Mr Gay World 2012, said: "The event is not a modelling competition. Charl is a gay role model who gives courage to gays all over Africa and shows them their lives are about more than repression, torture, HIV and prison sentences. That message will be enhanced if we can elect the 2012 Mr Gay World on African soil, where the vast majority of governments are anti-gay and are currently hardening their repressive laws."
This year the Philippines are hosting the Mr Gay World competition and online voting starts on 14th February and after the final South Africa will find out if its bid was successful.