Editor's Words: November 2010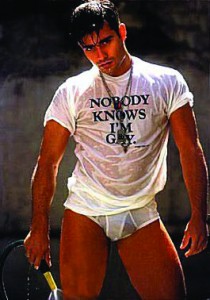 A couple of things have caught my eye this month… one of which was an interesting piece I saw in the Costa Del Sol Euro Weekly, Spain's largest Free local newspaper in English. Controversial and out Torremolinos businessman Javier Checa wants a Universal Gay State and thinks his hometown could quite easily be its centre point. The aim is to make a universal nation of the 55 million gay customers in the world, and in doing so, become the fifth worldwide economic power. Checa claims that the creation of such a 'Gay State' would look out for the rights of an oppressed population.
This man may be a nutter, an eccentric, a self publicist… I don't know but, and this is a huge but, what a brilliant idea. Can you imagine such a concept working? If all the gay people of the world snuggled together under the one banner and made things happen. Changed world perception, forced governments to replace or scrap laws that are both prejudiced and unequal – flexing muscle that any gym bunny would be proud of in the interest of every gay person in the world. The prospect is mouth-watering in its extreme but fraught with obvious problems, even so, I couldn't help myself getting just a wee bit excited that someone had even suggested such an enterprise.
Meanwhile, on the other side of the coin, I was searching through some of those lovely internet newsgroups and came across one that I was surprised to see. It said: The purpose of this group is to connect with other Bi/Gay men who are like minded and committed to staying in the closet. I'm not sure why it had never occurred to me before that there is probably a huge number of people who have absolutely no interest in anything gay… other than being gay themselves. They don't see it as anyone's business but their own; they're not interested in gay bars or clubs or to be seen on Pride marches or such events. In other words… they want to remain discreet… perhaps keeping their secret just that… a secret. Of course we can bang on about the injustices of the world and rights that need to be gained and wrongs that need to be challenged but I was taken with the thought of a support group for those who want nothing more than NOT be part of all things gay… and the associated pressures that can bring.
So, it may well be nigh on impossible for Javier Checa to see his dream fulfilled, however, we are fighting to gain rights for people to be who they are – I suppose that includes the rights of those who don't want to be told what they are.