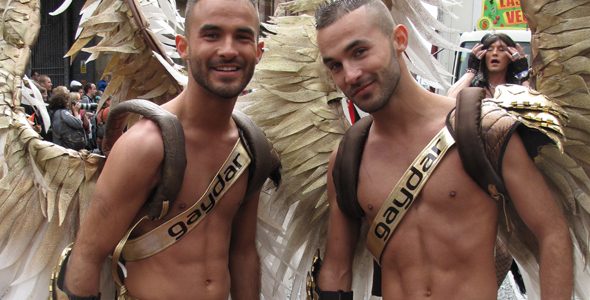 There's no doubt about it, Manchester Pride simply gets bigger and better each year. Already hailed as the best Pride event in the UK by readers of the Pink Paper and now up for a world award by a travel company (Best Annual Gay Destination Event' in the 2010 TripOut Gay Travel Awards), the organisers must, and should be, very pleased with what they have achieved.
Although the main focus of this festival of gayness is the pride weekend, there is now so much more to enjoy leading up to this Bacchanalian celebration. There are, theatre productions, exhibitions, sporting events, poetry, talks, cinema premieres and pre-views and a whole lot more… you could easily be doing something every day of the week in August. Meanwhile, the street parade and concerts over the Bank Holiday weekend attracted tens of thousands of happy revellers all enjoying the company of others out for a great time… and they weren't disappointed. Apart from the multitude of sexy hunks on the streets, the parade took "Through the Decades" as its theme, which saw floats from Coronation Street and teams from the Emergency Services all showing their support, as well as hordes of people there to see and be seen by the gathered crowds.
Meanwhile, the bars and clubs had a programme of excellent entertainment and aa if that wasn't enough a succession of big names took to the various stages set up around the village. American lover of Milkshake… Kelis, not only drove all the boys to the yard but almost brought the event to a halt as crowds gathered to see this exciting performer… no one was disappointed. Chicane, Beverley Knight, Belinda Carlisle and others, plus a host of top DJs, cabaret and drag artists kept the event on a high only adding to Manchester's claim to holding the best organised, most diverse and distinct Pride event in the country.