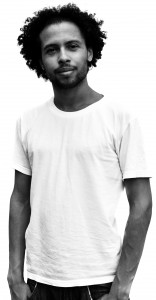 He's young, black and gay. He's an activist and an artist and he releases his next album, 'Missing Pieces' as a free download on the 4th October.
This year he won the Spirit of London Award in recognition of his work in schools highlighting equality and diversity issues through poetry and drama. He says: "Although work like that is reward enough in itself, it's a real privilege to be able to go into schools to challenge bullying, homophobia, racism, etc. because I believe that Silence Is Not Golden and we must speak out against injustice on small and large scales."
The album is bound to create quite a stir for at least one track as Dean says: "A lot of people focus in on 'Morning Sex' because there's a video out for it but hopefully with this album people will hear that I've got a lot more to say than the F-word. I'm not your average rapper but I'm not your average poet either."
Be sure to catch Dean at any LGBT event… you will we enthralled.
photo: Rhiannon Jayne.