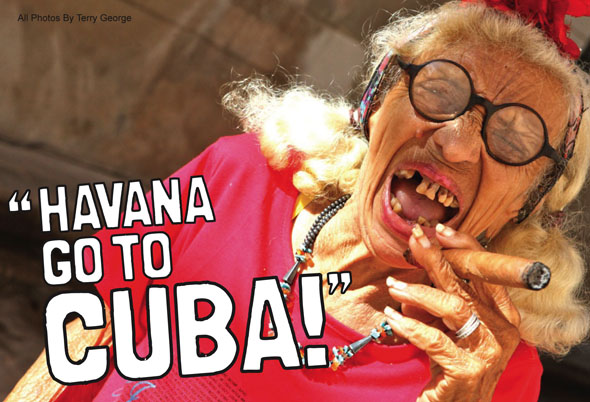 As regular readers will know… I love to travel. Seeing new and exciting places, meeting different people and experiencing something fresh for the first time, makes all the effort of getting there so worthwhile. There are two places I'd always wanted to go – North Korea and Cuba, and as the leadership of the Democratic People's Republic in Asia seem a long way from hanging out the bunting in anticipation of mine (or anyone else's) arrival at the moment, I was pleased to be able to visit my other much anticipated destination – Cuba.
Before the communist revolution in the late 50s the island was well known as the playground for the elite of America and Europe. Heavily under the influence of the Mafia, who set up hotels, casinos and encouraged an atmosphere of 'anything goes', the capital Havana was seen as the centre of greed, licentiousness and corruption, which wasn't appreciated by many of the local inhabitants. The revolution that brought Castro to power saw a crackdown on many of the pleasures and freedoms that were taken for granted. The government brought in sweeping reforms and barbaric restrictions that saw many people leave the country, while others were persecuted in other ways. Many homosexuals in this period, who couldn't or didn't escape to Florida or elsewhere, were forced into labour camps, tortured or sent to prison. Thankfully, the Castro administration has changed its policy these days. Indeed, Sexual relations between same-sex consenting adults 16 and over have been legal in Cuba since 1979, although same-sex relationships are not presently recognised by the state. However, a vacation to this, the heaviest populated island in the Caribbean, is a treat for the traveller who wants something different and a veritable attack on the senses.
To quote the travel site, Lonely Planet (www.lonelyplanet.com/cuba/havana): "Traditional sights aside, Havana's greatest attraction is its earthy authenticity. This is no trussed-up tourist resort or cynically concocted amusement park. There are museums here, of course, along with beautifully preserved palaces, top-notch hotels and rather tasty restaurants. But walk a couple of blocks north of leafy Parque Central and you'll suddenly find yourself in a dusty 1950s time warp."
It's not only the famous big old American cars that can be seen around that gives the feeling of stepping onto a 50s film set, the people themselves have nothing. No computers, no Xbox and no trendy labels. Kids play football with rolled-up balls of plastic, young children enjoy the pleasures of a simple whip and top, while their clothing is simple but functional. Mother's go shopping with hair in curlers, while the shops themselves are empty of most of the basics that I for one take for granted. Indeed, you suddenly realise just how Americanised we Europeans have become when you cannot get a McDonalds, a KFC bargain bucket or even a Coca Cola. As the Lonely Planet article suggests, this isn't an amusement park because, when you've had enough for the day, life as it is just continues. Even though mixing between tourists and the locals isn't encouraged the people are very friendly and will come up and take pleasure in your company. It all seems so very social… families are out on the street chatting to one and other, going about their business, with what appears to be little or no aggravation or violence – happy but not desperate. In other countries I've been to the difference between the rich and poor has often made for a very scary begging class, in Havana and the rest of Cuba, no one has anything, so begging has little point.
Had we not met up with the fantastic Virgin Airlines trolley dolly James who knew the city, I doubt very much that we would have found the 'gay' area. There is a surefire way to meet up with and get suggestions from gay locals. The Yara Theater (Calle 23 and Calle L, Vedado) is a place where gays congregate to socialize and exchange news and gossip. In the area outside and around the theater, groups of men assemble nightly. Foreign visitors are welcomed warmly, and from your new friends, you could learn the location of the beaches with gay friendly areas. It may sound daunting, but it is the way, and visitors are expected and welcomed. The "official" gay beaches in Havana are: El Chivo in East Havana, and Mi Cayito at Playas del Este, where you may also get current pointers from friendly locals.
Our guide took us to the sea wall El Malecon in Havana… a huge sea defence that seems to be the focal point for many of the city's inhabitants. In the evening, by purchasing a couple of bottles of local rum and a few paper cups then stationing yourself opposite the National Hotel, you wont be alone for very long, as lads, trannies and guys of all ages will come and, at the offering of a cup of rum, chat and enjoy your company. Of course some lads will be available at a price but that isn't really the social side to this pleasant pastime. The police are around and watching all the time but once you have your new friends, invitations to' The Party' will get you to the local gay bar or club. Now don't go expecting Fat Boy Slim to be on the decks, indeed it was like walking into a northern working men's club circa, 1970, with everyone sat around chatting. At one bar the DJ introduced the latest video 'Top of the Pops' style, while in another the cabaret was the same as the stars entertaining at the world famous Club Tropicana, a huge outdoor complex that features big production numbers and… gorgeous hunky dancers. It was weird yet, in a way, so damned refreshing.
Cuba may have very little but I just can't wait to return… I loved the place.
My pointers to coping with Havana.
Expect the food to be awful… even in tourist areas it was difficult in getting anything enjoyable.
The local money the peso is different from the 'tourist' peso so don't be fooled when you get change.
They make bloody awful mojitos but rather wonderful daiquiris.
If you take someone's photo don't forget to give them a few coins in way of thanks.
Taxis are cheap so don't be afraid to hail one but, if you want to be environmental, try using the boys on the trikes that will transport you around with equal flair.