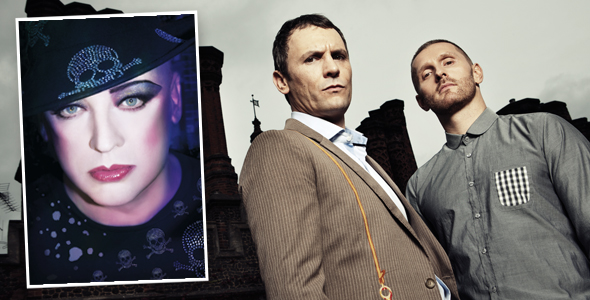 Electronica duo Glide & Swerve return with the deeply emotive and euphoric track Pentonville Blues, featuring the vocals of the legendary Boy George.
Invoking the reggae sounds that brought Boy George to the forefront of music in the 1980s, Pentonville Blues is an intensely personal track, written following the singers time spent in prison. Glide & Swerve is made up by Ivan Clarke and Simon Glantz who first formed in Hong Kong, before taking their sound back to the UK to record their highly regarded debut album. With a wealth of musical experience behind them, the duo have always kept one foot in the dance music scene, DJing across Europe and remixing for labels including Pacha and Seamless, and one foot firmly in the future by creating musically diverse, yet consistently uplifting material. After receiving rave reviews from the likes of IDJ Magazine, The Sun and being awarded Album of the Month in FHM for their debut full length Bring Back Love, Glide & Swerve have produced a supremely rich track which perfectly showcases their unique ability to combine elevating melodies with universal accessibility.
Glide & Swerve – Pentonville Blues featuring Boy George will be available from all good digital retailers 18th October.