A Force to be reckoned with!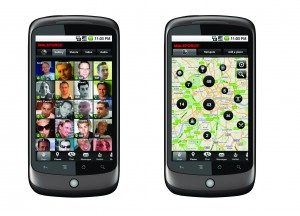 With over 15 successful years of running dating phone lines and websites, Virtual Universe Ltd are taking on GPS mobile gay dating giant Grindr, with their own Maleforce Mobile GPS dating app.
Unlike Grindr, Maleforce Mobile not only provides GPS mapping reference for guys in the immediate area, but also shows bars, pubs and clubs in the vicinity as well as cool shops and other points of interest.
Each member can upload video or audio footage of themselves onto their profile – something that Grindr members can't yet do and best of all, unlike the competition, Maleforce Mobile is totally free to download and use. Maleforce Mobile 1.1 has just been launched and is available to download to all brands of smart phones via iTunes or www.maleforce.com and it has been selected by the Apple apps store as being 'new and noteworthy'. Over 4,000 new users have signed up since the launch in mid-August and the numbers keep rising, so it looks like there's a new force in the market with Maleforce mobile.