Cruz 101 – The Hallowe'en Ball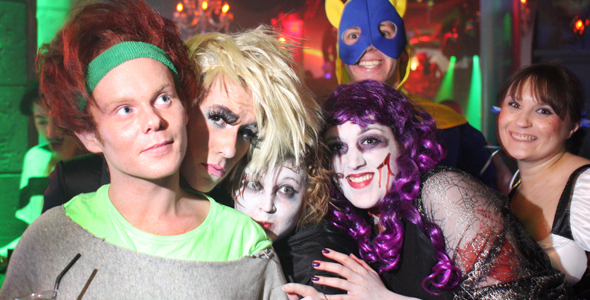 The nights are drawing in and the weather's on the turn which can only mean one thing – Autumn is here and October is just around the corner. One of the things Cruz 101's team excels at is taking the club to extremes for its many special events during the year and October brings the perfect excuse for a theme night – All Hallow's Eve, better known to the gays of Manchester as Cruz 101's Hallowe'en Ball! Paul Tuck from the club's design team told me "It's like taking the best bits from a library of horror films and recreating them for a club setting. It's taken nearly fifteen years to make all the elements for the set and (as it's my favourite) it takes quite a while to get it all out of storage and put it together – about a week. Also, the effort our customers go to never fails to amaze me – the Ball could easily be mistaken for the set of the latest Hollywood blockbuster horror and last year over a thousand customers over the weekend came in outfits ranging from traditional Dracula to a decaying corpse – last year's winner of the competition." The club will undergo a complete transformation becoming a horrifying and interactive haunting experience for those who dare.
Of course every horror has its lead and long-time veteran of Cruz's Balls, Mistress Cara will be rising from her crypt, dusting off the cobwebs from her Hallowe'en gowns and hosting the annual fancy-dress competition with the chance to win £250 cash, champagne and other goodies for the runners up. We will warn you though – bed sheets aren't going to win you the top prize here… the standards are scarily high. Check out www.cruz101.com/whatamiupagainst to see what you'll be up against!
Contact the club on 0161 9500 101