Zack in the Freyme – By Les Lea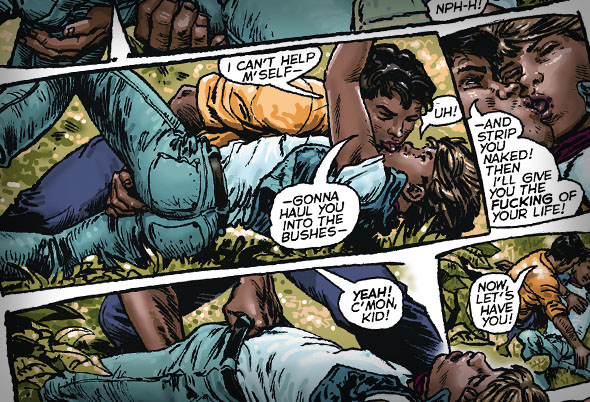 When a new book arrived on my desk from German publishers Bruno Gmuender I was quite thrilled. The book was Bike Boy, a sexy cartoon strip of four horny stories, by Zack, a name I was happy to reacquaint myself with. You see Zack, or as he was known to me many years back, Oliver Frey, was the first person to ever illustrate one of my earliest stories. He was artist-in-residence and partner in a gay magazine called HIM that not only published some of my 'clumsy' attempts at erotic fiction but took the time to make them appear even stronger on the page with a superb piece of Frey imagery. Whichever name he uses, Zack or Frey, his artwork is legendary in gay circles and still commands a great deal of attention online, so it was terrific for me to catch up with one of my all-time artistic heroes and learn about how he got into gay publishing in the first place.
I was already an illustrator for the War Picture Library series, Look and Learn and various other youth publications and books, when I came across a copy of the very first incarnation of HIM and noticed it contained a comic strip. I thought it was awful and decided I'd submit a gay strip of my own. It was all part of my own 'coming out', which was more of an 'event' in the mid 70s; I actually signed it with my real name. The story was accepted for a younger-themed sister mag of HIM's, and then another story… before the company folded, without my being paid. A few months later I suddenly got a cheque from HIM's editor Alan Purnell, who'd re-launched the magazine under another company: he asked me to produce a comic strip series with a hunky, macho hero… and I came up with Rogue, wealthy world-traveller with an insatiable appetite for cute guys. The rest is history: I got more involved with the magazine and its stable mates as they came along, until I finally ended up owning them all, with my partner Roger.
I loved the Rogue character, especially the story where Rogue has a young personal trainer… that kept my nocturnal desires alive most nights. Do you have a favourite character?
Rogue is still my favourite: he was everything I wasn't. I wrote and drew numerous episodes right up to 1983.
On my study wall I have an old poster for a play called Satyricon was that one of yours?
Our company was what you'd call the 'media partner' for the production of Satyricon, and I created the poster plus a giant blow-up version of the image to sit atop the marquee of the Phoenix Theatre in Charing Cross Road where it played. The Evening Standard called it offensive, which made my day! The play was terrible and didn't last long.
I seem to remember you disappearing from the gay scene and started to illustrate for other publications, at the time were you trying to get away from that 'gay' market?
Vice squad activities made our company unsustainable, and after a big raid and a scary court case, we sold our titles to Millivres and left London. I carried on with Rogue for them, plus another strip, 'The Street', until 1983, when we started getting involved with the burgeoning computer games market and launched CRASH magazine. It wasn't exactly wanting to get away from the gay market, it just panned out that way.
This book Bike Boy has four short stories, are you ever tempted to go back and expand on those you wrote?
Bike Boy's a colour compilation of hard-core stories I began writing and drawing in the late 90s, some of which were published in black and white in the U.S. magazine 'Meatmen'. I invented Zack as a moniker for these explicit tales. If Bike Boy sells well, I hope Bruno Gmuender will publish a follow-up, but I'm not likely to expand on old ones… still, you never know.
Your style is very detailed – it must take you ages to finish what is just a cartoon strip?
Each of the Bike Boy stories took around three months to complete, what with writing, drawing and inking the panels, then colouring them up on computer. Yes, it's quite a bit of work, but the detail is what brings the stories to life!
Are the stories all from your own fevered brain or do you work to someone else's script?
Blame it all on my fevered brain and urges lower down! It's difficult illustrating someone else's fantasies…
Will we ever see an animated version of your sexy boys on DVD?
Wouldn't that be great! Can you imagine the work involved? I suspect that's a pipe dream, but I have looked into it a bit… we'll see.
You have done a whole host of fantastic illustrations… do you have your own particular favourite?
Now you're asking… the most recent is usually my favourite, when I'm still turned on by it.
Which other publications do you still illustrate for?
Magazine work mutated into book publishing. Our company Thalamus Books published numerous illustrated history and reference books from 2000 to last year when we closed it down due to awful market conditions. We now sell my old originals on the web at oliverfreyart.com and, more discreetly, my gay stuff at zack-art.com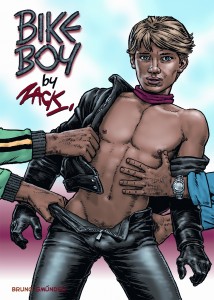 Bike Boy – By Zack
96 pages of comic strip—that's something you can leaf through rather quickly, one should guess but things are a bit different when it's about Bike Boy. A sexy young twink takes a ride on his new motorcycle—a present for his 18th birthday. Soon it becomes obvious that it's not only the machine that's about to be broken in on this steamy day. Meanwhile, a young, blonde sailor is greedy for some nice chick but gets laid himself to his surprise. Kyle, a dominant, hot and horny hustler, gets used himself and a hairy muscled hunk has to curb his greed for a beautiful Latino whippersnapper—but finally he gets to shoot his load and bangs the little rascal all night through. Four tales and each sexually charged story is simply… crotch grabbingly awesome!
£14.99 – Bruno Gmunder  /  www.brunogmuender.com