THE LADY BOYS OF BANGKOK ARE BACK!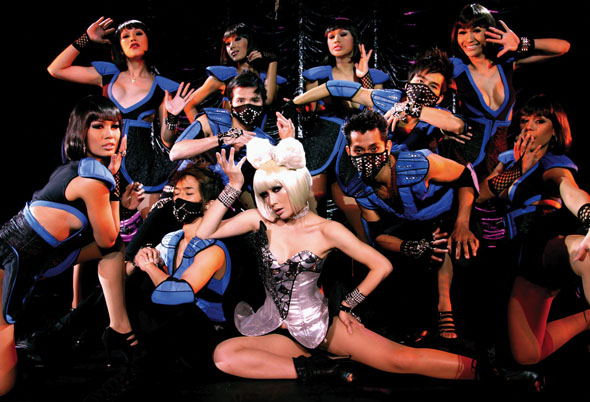 The fabulous Lady Boys of Bangkok return in spectacular style with 'Fantasy & Feathers' the fun-packed new 2010 production of the country's favourite cabaret party show.
This is not just 'a night out' this is a must-see event, a slick, irrepressible show packed with raunchy razzamatazz. Unique performances from Lady Gaga to The Saturdays and a song to get all the 'Single Ladies' on their feet, performed with not a centimetre of cellulite in sight! 16 of the world's most beautiful show-girls (who just happen to be men) it's the show everyone is talking about.
Direct from the heart of Bangkok's pulsating nightlife; be entertained, like no one has entertained you before. Enjoy the trade-mark painstakingly immaculate make up; the glittering array of over 300 designer-inspired hand-sewn outfits; the show-stopping choreography and the sexy, but never crude or vulgar performance that is uniquely 'The Lady Boys of Bangkok.'
Director Phillip Gandey said "The Lady Boys of Bangkok now occupies a unique position in the world of entertainment. We staged the first show in Edinburgh 12 years ago, we knew then we had something very special. Each year our audiences continue to grow and our productions become more ambitious. Laughter is a vital element in every show. Our audiences want a good night out, where they can really let go and enjoy themselves. They will never look at the opposite sex in the same way again."
The Sabai Pavilion, Millennium Square, Leeds
Fri 15th until Sat 30th October
Performances: Thursday – Saturdays 7pm & 9.15pm Sundays – Wednesday 8pm
Telephone Booking: 0871 705 0705*
*(Calls to this number will cost 10p per minute from a BT landline. Other networks and mobile networks may cost more)