Courtney's Next Act – By Max Jiminez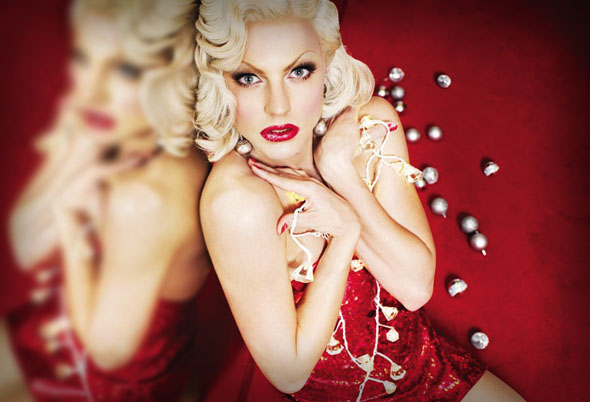 Idol alumni and gender-bending sensation Courtney Act made a named for herself in 2003, when after trying out and failing to get on Australian Idol as Shane Jenek, she returned for the next day's audition as Courtney Act. Courtney's explosive, energetic performing style and joyous personality resonated with audiences. With performances of songs like "You Don't Own Me", "W.O.M.A.N." and "You Shook Me All Night Long", the country was mesmerized and Australia had a new, slightly less conventional, sweetheart.
Act's new single, "Welcome to Disgraceland", was inspired by her live show at Disgraceland, a popular Australia nightclub renowned for its elaborate costumes, colorful dancers, and over-the-top fabulousness. Some of the biggest names in the world have attended Disgraceland including George Michael and the Pussycat Dolls.
"No matter where I am when I sing the song's chorus, the audience and I are magically transported to Disgraceland," she continues. "It's euphoric to see everyone in the arena jumping, dancing, laughing and celebrating the debauchery!"
Most recently, Courtney made international headlines when she performed a private birthday performance for Lady Gaga. "I entered just after the main course wearing a gold bubble dress singing Sweet Transvestite. She sat watching with a big grin on her face as I danced through the crowd and played up to everyone. When I got to the second verse I danced over to Gaga and gave her a bit of a lap dance, I then jumped up onto the table and brought the song home, dancing on the dinner table top, for the final moment, her singers and dancers behind me filling in the backing vocals on "Sweet Transvestite". It was pretty bloody gay!After the performance, we chatted and walked together in a garden. At one point, we reached some stone steps that looked dangerous," she remembers. "Gaga suggested we take off our heels since they were both 6". Mine, however, were not Armani Privé and Swarovski encrusted."
Even so, Act says she was struck by how normal Lady Gaga was. "Our similarities were greater than our differences," she says. Act hopes audiences gleam the same realization from her show.
In addition to being the first drag contestant on "Idol", Courtney Act was the franchises' first out contestant. No other contestant on any Idol show throughout the world has ever been out during production. Still, Courtney doesn't credit the dress for her success.
"I was judged on my entertainment value and talent, two essential qualities for any pop artist," she says. "I know the fact that I was in drag added to the entertainment value, but I think the whole package is what got me through."