Editor's Words – September 2010
According to the Office for National Statistics, 3,227 male and 3,054 female couples tied the knot last year. This number was down 12% on the previous year, which was also down on the year before that. I suppose it is only natural that the giddy delight in at last being able to officially acknowledge our relationships should recede as we get used to the idea. However, there may well be another reason, many people think that Civil Partnerships are second class to a heterosexual marriage and will have nothing to do with it. Some groups are now demanding complete equality (yes that word that so many people just can't seem to get their heads around) and will not settle for second best. Currently, with Civil Partnerships, there are inconsistencies which mean those in them do not have the same rights as married couples. For example, under international law, if a married couple travel to another jurisdiction they are obliged to be recognised as such; there are no such recognition for Civil Partnerships. OK, the good news – many countries are already changing out-dated laws and making marriage legal and equal for their citizens. Even our new coalition government is looking in to it so… who knows? The bad news – yes religion. These barmy zealots still think that they have the right to interfere in yours and my life. They claim that marriage is a God given right and he wouldn't like it if a same sex couple were joined together in one of his churches. The fact that they have and the church, the vicar and the couple didn't burst into flames seems to have passed them by. I'm in a Civil Partnership, I'm not sure if I'd go to the lengths of marriage and I'm all in favour of people rejecting the entire concept of a piece of paper meaning so much. One has to wonder, before God claiming marriage as his (according to certain religions) how on earth did the world manage to populate itself with out such a divine intervention in their lives?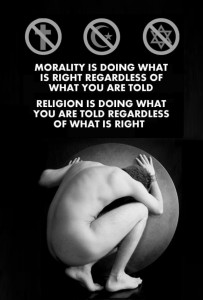 Meanwhile, a Catholic adoption charity in Leeds that wanted to be exempt from allowing gay people to adopt was given short shrift from the government. A spokesman for the UK's main adoption agency Barnardo's said this: "For an Agency to have been allowed to refuse potential adopters simply because of their sexual orientation would have severely diminished securing the best future for many children,
therefore Barnardo's welcomes this decision. Adoption can transform a child's life, and success rests on selecting, for each child, the very best parents in terms of the love and stability they can provide. In most adoptions, the best adoptive parents happen to be heterosexual, however sometimes the best possible parents happen to be gay. All that matters is what is best for the child."
Have a look at this poster I found on the net… I couldn't have put it better myself!
Hugs
Gordon