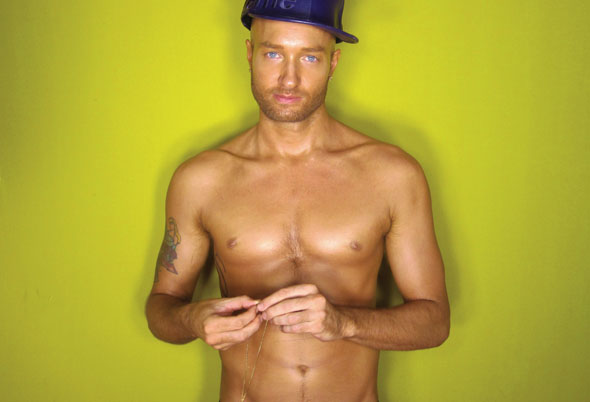 He's a hot gay rapper who we would all quite like to cover in ice cream. Cazwell has already had cult anthems such as 'All Over My Face' and 'I Seen Beyonce at Burger King' and has followed it up with the song (and one of our favourite pop videos of the year) 'Ice Cream Truck'. Simon Savidge caught up with the sexy star to talk homophobia in hip-hop, Beyonce and what ice cream Lady Gaga would taste of…
So how is all in the world of Cazwell at the moment?
It's like super busy. Every time I drop a new video my life goes a little crazy with interviews and everything and the latest song and video seem to have caused a lot of talk, which is perfect and just what you need. The response is all really good though.
Your new song Ice Cream Truck is superb, where did the idea come from?
It was originally for a film called 'Spork' and a friend of mine said I want something really summery, something light and something that's gonna be catchy, hopefully we got all three.
Now that video is hot stuff, in fact some of us can't stop playing it at Bent HQ and aren't getting enough work done… was that always what you had wanted to do with it visually?
Well, I wanted to have lots of Latino men in it because I think they are the hottest, so that was always my ideal scenario. I also really wanted to make a hip hop kind of video and in those you need to objectify something, so I objectified some Latino go-go dancers, a definite perk to the job. It's all actually filmed in my house and the East Village in New York. While we were filming an ice cream truck actually drove by, which was perfect. I think the little old lady driving it was a little shocked, but she got some business (laughs).
We have to ask… what's your favourite ice cream and place to eat it?
(Ha) I do love drumsticks, which is a euphemism for dick here so that's appropriate. I bet you want some really perverted place that I eat it don't you (laughs). I love sucking on my drumstick down the sidewalk, there you go, picture that (laughs).
If certain celebrities tasted of ice cream which flavour would they be… so for example what would Madonna taste like?
Oh god I hate things like this, it's a bit teen idol and quick fire (laughs) what would Madonna ice cream taste like… hmmm… bubble gum.
Kylie Minogue?
She'd be vanilla I guess, but not in a bland way… vanilla with rainbow sprinkles.
Jake from the Scissor Sisters?
He'd be banana split.
Eminem?
Rocky Road, no question.
Lady Gaga?
Hmmm that's the hardest one! It would have to be something a bit weird, and I mean weird in a good way. Like… erm… you know those really funky ice creams with the waxy latex layer you have to peel off that taste real good? One of them.
You have opened for Lady Gaga, what's the real Gaga like or is what we see just the Gaga you know?
Well that was like way back in the day, before she became uber famous. I mean we did a gig in a piece of shit club down on Avenue C and she was so professional. She did the sound check and knew how she was going to work the crowd. She knew how to work me too; she ended up riding me off the stage. She gave it her all regardless of how many people there were or weren't there and that's something you have to really respect. I think it's amazing and great the fame she has. You don't get celebrities like her really 'there' for the gay scene, though they like to cash in on the pink pound. I think she is there for us like with rallies and Prop 8 (a current gay marriage ruling going through the courts), where are Rihanna and Beyonce? You know what I mean? She has our backs and I have hers.
Could we expect a duet with her in the future?
I would love to but I think everyone on earth would love to… so I don't know if it would ever happen. I would love it to though.
So when can we expect a new album from you?
I am aiming to have a new one out for Valentines Day, that's the goal. It's going to be quite different from 'Ice Cream Truck' I am going for the more electro sound. I do have an EP with Amanda Lepore out this month so you should all check that out. I have done a song called 'Get Into It' which she features on and then there is 'Marilyn' which is vice versa. We have done both the videos already and it's very Hollywood chic. I have a lot more clothes on for once.
You have a very close bond with Amanda Lepore how did that come about?
We have always been on the same scene really, I do some DJing and did some stuff for a birthday of hers. Then we started hanging out, and then did a duet, now we are like best friends. It's great.
You previously released a song called 'I Seen Beyonce at Burger King' do you know if she ever heard the song and what she thought?
I know she saw it, I heard from her people, and apparently she really liked it and thought it was very funny. She has a sense of humour that girl which I think is good. I like Beyonce, it was always meant as homage (laughs) and we all like a Burger King, right?
When are you next in the UK so we can all come and see you?
That's a good question, the sooner the better, I love the UK. I come over for some of Jodie Harsh's parties at Circus so maybe I could do one of those again soon? I would like to do GAY at Heaven too, let's see how this EP and the album do.
The hip-hop and rap scene is rather renowned for its homophobic lyrics and attitude, has that been a difficulty as people want to pigeon hole you in that category too?
I think early in my career I tried to pigeon hole myself that way. You can't though; in that scene you cannot be gay no way. I think now I am quite happy just doing my thing and mixing it all up to be honest. I like that music but I love my pop so the both of them combined is where I am happiest.
Is it true you're originally from Brazil; it says you are on Wikipedia?
Brazil? Are you kidding? (Laughs) Someone must have fucked with that, I am from Massachusetts that's hilarious. Brazil???? Nope, though the men in Brazil are hot so I wouldn't have minded.
You can find out much more about Cazwell as well as download 'Ice Cream Truck' for free and watch the video on repeat at cazwell.com.
Photos: Marco Ovando and Michael Wakefield