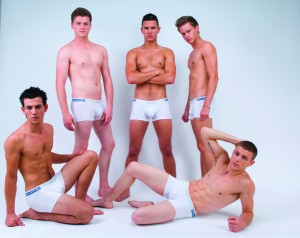 Inju5tice will be supporting male cancer charity, Everyman, during an upcoming promotional tour. Inju5tice has pledged to raise awareness of testicular cancer which is the most common cancer in young men.
They have chosen to support Everyman following one member's recent scare with testicular cancer. When one of the boys found a lump, it caused great concern. Although it was found not to be cancerous, the scare highlighted the importance of raising awareness amongst males that frequent self-checking could be a life saver. Inju5tice's Luke says "We are really looking forward to getting the message out there that self-checking is vital. Men don't tend to be as vocal about health issues so we really want to try and break that stigma."
Inju5tice's first single- Long Long Way From Home is out 27th September
Album- World's Most Wanted is out 11th October
If you only do one thing for charity this year why not help beat cancer by purchasing these exclusive Everyman boxer shorts? For every boxer you buy, you get an excellent product as well as making a contribution to the Everyman Male Cancer Campaign. The Everyman boxer offers the same great comfort and support as our other products, with a £5 donation from each Everyman boxer purchased going directly to the campaign.
Pants: Tel: 0844 561 7970
Testicular cancer facts
Testicular cancer develops from within the cells in the testes. It usually presents itself as a lump in the testicle. Regular self examination can help to detect this cancer at an early stage.
A lump in either testicle
Any enlargement of the testicle
A feeling of heaviness in the scrotum
A dull ache in the abdomen or groin
A sudden collection of fluid in the scrotum
Growth or tenderness of the upper chest
If you do have any of these symptoms, don't just wait and hope that they disappear – go and get checked out by your doctor. Most lumps are not cancerous but the earlier you find out, the earlier you can get any necessary treatment.
And remember – if caught early, testicular cancer is 99% curable.
Competition Time
To be in with a chance of winning a pair of these fantastic pants, like the ones worn by Inju5tice, just answer this simple question:
Everyman is raising awareness of which disease?
Photo: David Gardam
Bent Magazine Prize Draw Terms & Conditions
1. The prize draws are open to UK residents aged 18 and over. 2. No purchase is necessary. 3. Only one entry per person is allowed and multiple entries will result in an entrant being disqualified. 4. The deadline for receiving entries for the competition is the last working day of the magazine's month. 5. Winners will be notified within 28 days after the competition closes. 6. Proof of delivery or email will not constitute proof of entering the prize draws and no responsibility will be accepted for lost, corrupted, delayed or mislaid entries. 7. The winner(s) will be the first valid entry drawn at random. 8. Bent reserves the right to substitute the prize for another prize of equal value. 9. There are no alternative cash prizes. 10. Bent Magazine's decision is final and no correspondence will be entered into. 11. When you enter a prize draw, your details will be used to provide you with updates, information and promotions from Bent and other members of APN Ltd. You can opt out at any time by following the Unsubscribe link on the bottom of every email or by sending an email to unsubscribe@bent.com asking to be removed from our mailing list. 12. By submitting an entry, all entrants acknowledge and accept these terms and conditions. By taking part in any prize draws or competitions, you agree to be bound by these rules and the decisions of Bent Magazine which are final. 13. Bent Magazine reserves the right to disqualify any entrant and/or winner in its absolute discretion for any reason and without notice.