Beyonce – Boys will be boys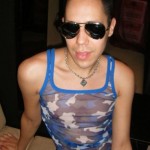 Friends often ask me for advice. They say they can't understand boys. I've never found boys difficult. They're nothing if not predictable, and usually my friends know this too. They just want to be proved wrong. Here's a handy hint: you won't be.
Take for example Porno Scally (not his real name). Porno Scally claimed to be the best bang since the big one. He strutted about, hands in pants, wearing trackies and speaking with an 'eezee geezer' laboured Scouse accent. He was rude, bossy, and claimed to be a porn director. He also ran an escort agency and was likely on the game himself. It was clear to me he'd have a tiny cock and be pretty much the laziest shag I'd ever have.
I was right, of course. Despite all his posturing, he dropped his trackies and begged to be fucked. Despite the safer sex messages writ all over the walls of his 'studio', he pleaded for me to shoot a load inside him. If I'd had a gun, I'd have shot him a load, alright.
He lay there, sniffing poppers till his lips and fingers turned blue, and tugged at his tiny cock, while moaning like an Eton nancy boy. So much for being 'hard'.
Next up was The Neurotic Ex. You know the type. They break up with you for some flimflam reason (in this case he was jealous because I spent too much time dancing with my sister and not him), and then immediately regret it.
When he got back off holiday last week, he dropped me a text asking if I was going out that night. I read this as: I really want to see you. I read this as: an opportunity for a good fuck. Because despite his whining, shagging The Neurotic Ex is always a sweat-drenched good time.
I invited him to mine for 'pre-drinks', and if you're getting the gist of this column already, you'd have read that as: me using the poor boy for my own cruel fun. He arrived, booze in hand, and spent the next hour trying to flirt with me. I was bored. I was so bored I almost didn't want to sleep with him.
Just as I was about to give up the ghost and call a taxi so we could go into town, I remembered how big his cock was, and decided I would get back on track. Within minutes his ankles were behind his ears, and when we finished, despite the fact he'd come, his cock stayed hard. I think it was still hard for most of the night when we were out. What followed was more rampant sex on his kitchen surfaces when we got in, with another hard-on that didn't go down, and then even more in the morning.
As I left to jump into my taxi at 11am, the sun scalding my eyes, he was still hard. I read this as: bless, the poor boy's in love! I think his need to hold my hand all the time pretty much gave it away.
And so you see, my pretties: boys really aren't hard to understand. You just have to give up expecting them to change and play the game according to the rules.
Happy shagging!