A Night to Remember By Les Lea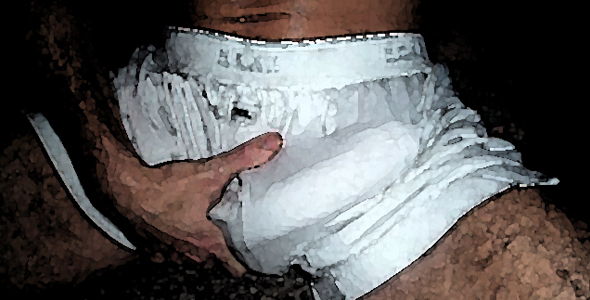 I awoke to see a dull light behind the curtains. My eyes focused on the red display of the digital clock… 10:20, a moment's panic hit me but soon departed as I realised it was Saturday and not a work day. All that happened in a glance, and then my eyes fell upon the head resting against my chest. My right arm was around slender shoulders holding a warm body against me. All I could see was fine blond hair. The soft sigh of breathing told me my lover was still asleep.
We had met the previous night at a bar just a few streets away from where I live. It is a gay bar but so grotty I very rarely frequent it. I had called in on my way home for a last drink. It had been one of those weeks piled into that one day. All I really wanted to do was get home, get out of my work suit and slip effortlessly in to a foaming hot bath and have an early night. As I had no booze in the house I thought a stiff one might just unwind me a little. The bar was quite full and looking around I could see it had its quota of misfits. I downed my first scotch and ordered another. Whilst it was on its way I could see stood on his own at the far side of the bar a young guy. He was being cruised like crazy by nearly everyone in the place but he didn't seem all that concerned. He had clearly made a group of queen's night as they sat at a table behind him. Obviously the lad's buns had created quite a stir.
The lad was quite nice. I'd reckon about eighteen or nineteen, clean-shaven, blond and… looking at me. He smiled and walked over and asked me if I wanted a drink. I stood a bit dumb for the moment, at nearly forty, I hadn't been picked up (by someone this cute… or otherwise for that matter) for ages. His cheeky smile got to me and I grinned back a 'Why not'.
That was that. We had a couple more drinks and I invited him back to my flat. As I've already said, I didn't live far away so we walked but a steady downpour, even in just that short distance, had sodden us by the time we arrived. The first thing to do was get out of our wet clothes. He stripped quickly. His denim jacket, checked shirt, sneakers, socks and jeans were piled in a heap on the floor. He stood there looking gorgeous as I passed him a towel and began to collect his things to put them in the airing cupboard. As he dried himself I noticed he must have been away on holiday fairly recently; his blond hair contrasted with his hairless tanned body, which itself was highlighted by a pair of pure white "NEXT" cotton trunks. As he towelled his hair I stood and admired his physique. He wasn't a well-built muscle boy but what he had was perfect, not an ounce of fat anywhere. My damp clothes were beginning to irritate me so I went to the bathroom to undress. I was glad to shuck off my work clothes, wearing a suit and tie always annoyed me, but when I got down to my black Calvin Klein briefs I could feel him standing in the doorway even though my back was to it.
He moved up behind me and put his arms around my waist. With a sigh he rested his head on my back and held me for a moment. I could see our reflection in the mirror at the side. His eyes were closed as he quietly held on to me. I could see, as well as feel, this sturdy young stud's equipment bulging out of the soft white fabric and digging into the small of my back.
His hands began to wander to my hardening nipples and stroked the thick matted hair on my chest. He then moved his hands down to my briefs and through the thin material he began to sensitively manipulate my cock. The lad certainly had plenty about him and I wondered if his next move was to take me there and then in the bathroom. At that particular moment I was so horny I wouldn't have minded. He tugged me round to face him and I looked into the most expressive pair of blue eyes… and they told me exactly what the lad wanted. I pulled him towards me and kissed, my tongue forcing open his delicious soft mouth. He gave way to it completely. My hand caressed his back and ran down to his cotton covered buttocks, my fingers tracing the crack that separated them. He was moaning a little by now so I turned him around and could understand how back at the bar he'd made that group of queen's day. His young arse made my dick pulse to attention… and it was that which received my full attention. Eventually, after a few hours of superb and stimulating sex, sweaty and exhausted we fell asleep in each others arms… it was a night I will always remember… and a morning I would come to never forget.