Terry George: Frying tonight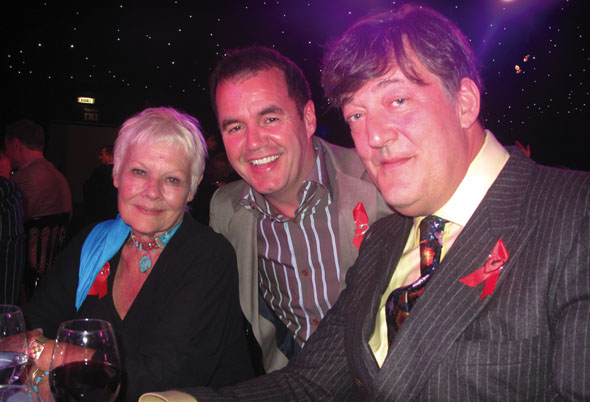 It's been a hectic few weeks for me and my feet have hardly touched the ground. However, recently I had one of the most terrifying experiences of my life. Let me explain.
It was the annual Gala Dinner for the Terrence Higgins Trust' Friends for Life in London and I was just one of the many guests that were invited along to hand over some cash and enjoy the company of those similar minded to myself. This event is high on the gay social calendar so quite an important do with loads of tables and famous folk scattered everywhere. Some times you can get lost at these huge events but 'Not to worry, I thought, I know quite a lot of the people here. Some of soap stars from Corrie and Eastenders I'm on more than just nodding acquaintance with, while there were other celebs from fashion, film, TV, radio and various businesses who I've run into at other such extravaganzas. I was wandering around, nodding to the good and powerful, looking for my place card and wondering which famous person I'd end up having a laugh with over the three-course meal. Alas, as I traipsed from table to table I couldn't find my illustrious name and I thought either I'd been forgotten or I was scheduled to serve the soap to everyone else.
Eventually, I made my way to the centre table, where the guest-of-honour, a certain Mr Stephen Fry, would be sitting for the evening's entertainment. Mega actress and Bond's M, Dame Judi Dench was flanking one side while on the other it was… me. I thought they'd got it wrong or that perhaps there was another Terry George that Stephen knew and I should continue my search. But I recognized that my guest's name was at the side of mine so I was obviously, if not surprisingly, in the correct place. Unfortunately, my apprehension took over and I wondered how the hell had I ended up on the main table. As I took my seat next to Stephen I shook uncontrollably as I realised; this is the man with the brain the size of a planet, who writes books, plays, he's an accomplished actor, is called upon by politicians for his opinion and fronts clever clogs quiz show QI. How the hell was I going to be QI as I know nothing? My GCSE in home economics is hardly going to hold me in good stead should the conversation drift away from 'what makes a good omelette?' – and once I'd replied 'eggs' I was stuffed. I had nothing more to say. I was absolutely terrified of not only showing myself up but with all the celebs (who were quite rightly wondering what on earth was I doing at Stephen's table) laughing at me as I slunk under the table (no not for that… do you mind) out of embarrassment. Shaking I turned to my guest and asked him what on earth I should talk about. He glanced at Stephen, then Dame Judi and then glanced at everyone else at the table and boldly said SEX. So somewhat apprehensive I ventured a joke that broke the ice and all seemed well however, it was nothing compared to the one Dame Judi told. I wish I could tell you what it was but I'm afraid the Secret Service will come round and silence me forever. Perhaps that could be the title of a James Bond movie.