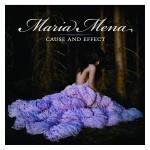 Great things are expected from this 23 year-old Norwegian songstress. Already a big name in her own country, and garnering many fans around the rest of the world (she was the guest artist at Stevie Wonder's recent Hyde Park gig), Maria Mena has now come to the attention of the UK public with an absolute gem of a single.
'Just Hold Me' is the 2nd UK single release from this young and talented Grammy award winning sensation and it was this new single which gained over 5.5 million hits on You Tube and catapulted Maria in to the International spotlight. From signing her first record deal at the age of 14, earning her first platinum record by 15 and gaining a wealth of awards through the years – including a Grammy for Best Female Artist and 2009 Norwegian Music Awards – Best Female Maria's success story just keeps on growing.
Maria writes all her own tracks, which are well-known for their raw emotion and honesty, containing unique melodies and powerful lyrics about her life, experiences and issues she has overcome. The single is classy, well produced and should be something of a constant on Radio 2's playlist.
Single: Just Hold Me out 16th August
Album: Cause and Effect out now – both on Sony Music