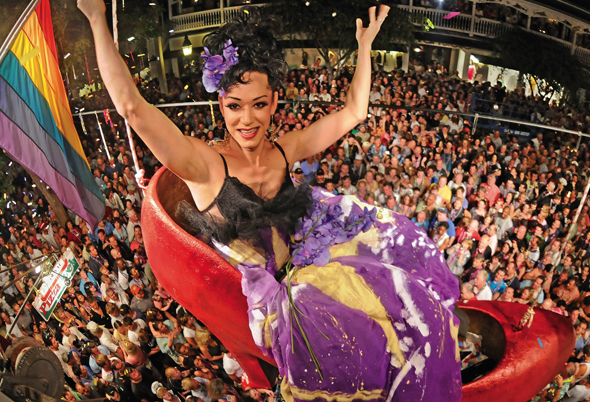 Celebrate Pride in style – Top 5 getaways
Ahead of the approaching Gay Pride Parade in London in July, Cheapflights UK, the UK's leading flight comparison website, takes a look at the world's top destinations for celebrating the history, diversity, and culture of the Lesbian, Gay, Bisexual, and Transgender (LGBT) communities.   The festivals are truly global in nature and take place on all continents.
Cheapflights UK's Top 5 Pride picks:
Sao Paulo – Brazil's talent for festivity is famous the world over, so it's no surprise that Sao Paulo is officially the world's largest Gay Pride celebration.  The Sao Paulo Pride Festival drew 3.1 million visitors in 2009, and expects to see 4 million attendees for 2010's event taking place over four days from 3-7 June. Add to this the fact that an entire month of festivities is also allocated to providing visibility to the LGBT community, encouraging recognition of their rights as citizens and building awareness of sexual diversity in society.
San Francisco – San Francisco's Gay Pride Festival has been known to some as a rite of passage, but to all as the largest pride celebration in the United States. Stroll along Market Street on 26-27 June to experience this year's '40 and Fabulous' theme.
Amsterdam – On the weekend of 5-8 August, Amsterdam will somehow manage to party harder than it does already. Club circuit parties, street parties, and other rocking events all lead up to the ultimate Canal Parade, where spectators and supporters along Prisengracht watch boats sail along with a swagger.
London – Thinking of pulling a staycation in honour of Pride?  Look no further than London during its Festival Fortnight, which takes place from 19 June – 3 July. Forty years after it began, the Gay Liberation Front has encouraged London to rejoice through Oxford and Regent Street, and from Piccadilly to Trafalgar Square, where speakers and performers gather.
New York – The birthplace of Gay Pride celebrates with a full week of activities comprising eclectic and fun events that take place all throughout the city. Beginning with a rally on 19 June and ending with a parade a week later, what happens in between is truly the most exciting and real part of the celebrations, held in a world-class city that some consider to be one of the birthplaces of modern gay rights.