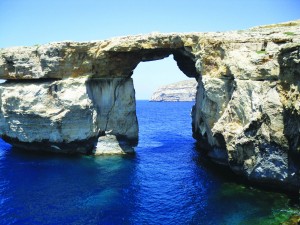 Last year Bent took a trip to Malta to see for itself if the image of the place had changed from its older, more conservative visitor to a younger, more exuberant crowd. It had. Hosting its own Malta Music Week and MTV shows, plus inviting some of the world's top DJs to the island, the perception of this all-year-round destination, set in the middle of the Mediterranean, means that this Hot little island is definitely Cool!
You simply cannot avoid the history of the place… and in all honesty, to miss out on any of it would be a travesty. The islands have been inhabited for over 6000 years and on Gozo you can find a temple that pre-dates Stonehenge. There are many archaeological sites and buildings that leave you wondering at the brilliance of ancient man. Meanwhile, in Malta's capital Valletta, and indeed scattered around the entire islands, the work of the Knights Hospitallers can only be stared at in wonder and amazement. Such grand architectural plans for towns, castles, harbours and walled settlements, which were conceived and built in just a few decades, shows a culture and a belief that would defy many of today's city planners.
A trip to the capital would not be complete without a visit to St John's Co-Cathedral. Now before you complain about being dragged around a damn church let me explain. The church is a splendid baroque work of art, a masterpiece in belief and houses some pretty brilliant works of art… perhaps none more important than that of the artist Caravaggio. His superb use of light and his detail, particularly with the musculature and movement of the male body, makes him a firm favourite with gay art aficionados and in The Beheading of Saint John the Baptist, housed in the cathedral, we see a superb example of his epic and often, homoerotic work.
That neatly brings me to Gay Malta.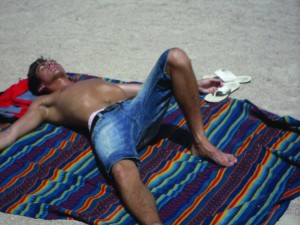 The island is very catholic. On the Pope's recent visit just about every member of the population turned out to greet him. To many gays this would be enough to put you off any possible chance of visiting a country that is so immersed in its religion but let me tell you, that intense Catholicism doesn't necessarily transfer to any intolerance. The Knights from the Crusades who eventually set up their base in Malta were an all male closed order. They had to be noblemen and single – albeit with a sense of unbelievable religious fervour – and gave themselves over to the protection of Christian pilgrims. Perhaps we at Bent just believe what suits us but that all sounds so bloody gay to us.  Indeed, the many local gay men we met seemed to be just about as out as you can get. The scene is not awash with gay bars and clubs because, as the locals say, "we all mix", happy to do their drinking anywhere that suits them. There are a couple of local gay bars, like Tom Bar, (No. 1 Crucifix Hill, Floriana Tel: +356 21250780) just up from the popular Waterfront development in Floriana; the longest established gay bar in the city, which plays videos and welcomes a diverse crowd. At weekends they open up the top floor 'P' Lounge when a whole new set of party people arrive. While over in Paceville, the noisy and younger part of St Julian's Bay and the main area for nightlife, you can find Klozet, (Ball Street, Paceville Tel: +356 79324333) which has a clubbier, youthful audience who like their music played LOUD.
Frank Micallef, the manager of Hugo's Tapas Bar, along with his partners, have around 12 themed events throughout the year (Halloween, White Fever etc etc) aimed mainly at a gay crowd who love to party. These attract the most gorgeous locals as well as island visitors and have become quite the hippest and outrageous occasions for those who like to dress up… and be seen!
The main gay beach is on Gnejna Bay, which makes up one of the three beaches on the west coast of the island, Golden Bay and Ghajn Tuffieha Bay being the other two. It seems that again everyone just gets on and mixes but, historically, for a more gay area, the right hand side of Gnejna beach is where the boys tend to congregate. Meanwhile, just along the coast from St Julian's Bay, the small beach at St George's Bay had its fair share of lads in brightly coloured baggy shorts, happily splashing around in the blue sea or lying out enjoying the sun.
Things to see and do in Malta
The capital Valletta is just one non-stop historical documentary. Proud of its colourful and enigmatic past, the restoration programme on some of the older buildings is bringing the city back to life.
A walk around the Three Cities; Cospicua, Senglea and Vittoriosa whose narrow winding streets offer a variety of restaurants, small museums, shops and a chance to see where local people live their lives.
Mdina – Malta's first capital in the centre of the island; fortified walls and baroque architecture.
The Waterfront in the Grand Harbour where the visiting cruise ships dock is a delight at any time of the day but in the evening, all the restaurants become busy and the area is a vibrant and fun place to be… especially if you catch the fabulous Fireworks Festival.
Take a harbour cruise in a traditional Maltese boat.
Hop on a local bus… with the island being so small it won't take too long to reach your destination. However, some of these ancient yellow vehicles will soon no longer be part of the Malta transport network as directives from the EU say that their carbon emissions are too high.
For a terrific treat take the sea plane from Valletta Harbour over to Gozo or perhaps enjoy an aerial tour of the islands.
Once on Gozo visit Ggantija Temples the oldest freestanding structures in the world and wonder (like we did) how such a small island would have the resources and the number of inhabitants necessary in 3500BC to even start to build such an edifice.
There is also the Citadel (the old capital of Gozo) whose impressive battlements offer a superb view around the island. There are also some natural wonders like The Azure Window – an impressive 20 metre high natural arch that spans the sea and land. The Inland Sea – a secluded bathing pool with crystal clear waters and a favourite place for divers from all over the world.
Food is something that the Maltese take great delight in and… make a meal out of !!!
The Terrazzo Restaurant – 102 Spinola Road, Saint Julian's. Great food and views across Spinola Bay.  Tel:+356 21384939
Trattoria A.D. 1530 – part of the Chateaux Xara Palace Hotel in Mdina. Tel:+356 21 450560
Pintonino Restaurant – Vault 15, Valletta Waterfront. Varied menu with fish specialities. Tel:+356  21227773
Salini Restaurant – Tigne Point, Sliema. Very up-market and a new concept in tapas eating. Tel:+356 2060 3434
Riviera della Marina Restaurant – Vittoriosa Waterfront; surrounded by luxury yachts the food seems to taste even better. Tel:+356 21807230
Zaffiro Restaurant – on the seafront at Xlendi Bay, Gozo – local produce and friendly service.
Bent would like to thank
Hotel Juliani – a small, gay-friendly boutique hotel in St Julian's Bay with terrific views over Spinola Bay, a rooftop pool and hosting the award winning Zest restaurant.
The Cavalieri Hotel, St Julian's Bay – a four star hotel situated in a unique and quiet location on the fringes of the most sought after tourist area in Malta but with impressive views of the Mediterranean from all rooms.
To Zarb Coaches for transporting us easily and confidently around the islands.
All the staff at Malta Tourism Authority who organised everything with such precision.
Our personal thanks go to our guide and historical spokesman Dominic Micallef for his friendliness, humour and knowledge, which he was happy to distribute in equal amounts to a couple of thickos from Bent.
Thank you