Ten Things You Never Knew About Kellan Lutz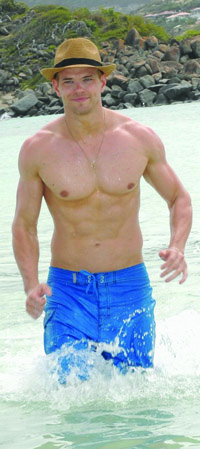 1. Kellan was featured in People magazine's "Summer's Hottest Bachelors" 2009.
2. Kellan intended on keeping his natural curly hair for the role of Emmett Cullen in the film, Twilight, however, he had recently had a buzz cut for a different film and his hair didn't grow fast enough for the filming of Twilight.
3. Kellan's favourite book is Wild at Heart. He is also a fan of John Grisham's books.
4. Kellan's role models are his mum, Robert Redford, and Leonardo DiCaprio.
5. Kellan has been modelling since he was 13 or 14.
6. Before breaking in to acting, Kellan was to attend Orange County's Chapman University for chemical engineering.
7. Kellan's guilty pleasure is anything with strawberries or strawberry flavour.
8. Kellan can speak fluent Spanish.
9. Kellan wears size 12 in shoes.
10. Kellan was in the Elizabeth Arden Fragrance commercial, starring Hilary Duff and her music video of the single With Love.
Kellan stars in The Twilight Saga: Eclipse out 9th July.