Ibiza Geezer! – By Adrian Gillan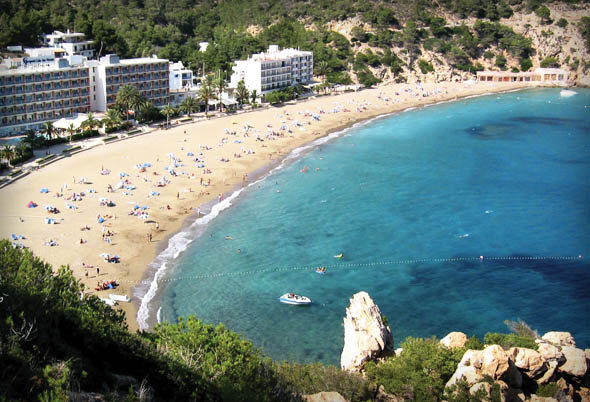 Already mad about Mallorca and Menorca, Adrian Gillan samples that gayest of Balearics: Ibiza!
It attracted artists in the 50s, hippies in the 60s, the jet-set in the 70s and clubbers in the 80s and 90s. 150 miles south of Barcelona, the Spanish, Catalan-speaking Mediterranean island of Ibiza is constantly reinventing itself, currently developing chic spas and rural options to compliment its still-renowned club scene. As well as heaving resorts and sizable English and German expat communities, Ibiza also boasts secluded coves and beaches, hilly villages and its very own baby-brother island, Formentera. Its 100,000 inhabitants are vastly outnumbered by tourists during sun-drenched May-Sept – everyone coexisting in an area the size of the Isle of Man! A third of Ibiza's population live in Ibiza Town (a.k.a. Eivissa) itself, home – along with adjoining resort, Figueretes – to the island's main gay scene.
TO STAY
Hotel Cenit (C/Archiduque Luís Salvador, s/n- Los Molinos; T:  +34 971 30 14 04 / 971 30 40 93;) – Gay-friendly, with spectacular sea views, near all scene and sights.
TO SEE 'N DO
Ibiza Town, Old Town (Dalt Vila) – Medieval hill-top zone, with cathedral, museums and seminary, made a World Heritage Site in 1999. Stroll winding lanes aimlessly; or walk atop renaissance walls.
San Antonio – Large Brit-dominated resort with great nightlife (clubs Paradis and Eden) on the west of the island, thereby prized as the place to watch the sun go down, on its "Sunset Strip". Check out the famous Café del Mar, plus buzzing West End district.
Rural Ibiza – Quiet villages like Sant Mateu d'Aubarca, with its glorious restaurant, Can Cires.
Beaches – From crammed Patja d'en Bossa near Ibiza Town to quieter gems like Cala Gracio just north of San Antonio, or Cala d'Hort with its stunning views out over the "magic isle" of Es Vedrà.
Mega-clubbing – Both in the port district of Ibiza Town; and in San Antonio on the other side of the island. Electro/trance DJs fill clubs such as Pacha, Space and – the world's biggest club, capacity 10,000 – Privilege. Expect a mixed-straight Euro-crowd; steep entrance and drinks charges; and to dance 'til, at the very least, dawn.
Hippy markets – Found all over the island, not least the large one in Es Canar on Wednesdays.
Formentera – Smallest Balearic, reached by regular 30-60 minute ferry ride from Ibiza Town. Sandy, with La Mola cliffs (190m) and population of just 7,500. Relatively flat, so hire a bike for the day to whiz around – taking in the cliffy cave in Cap de Barbaria, tiny San Francesc capital, quaint little Sant Ferran village, ancient stone circles and tasty restaurant Pequeña Isla in El Pilar.
TO BOOZE 'N CRUISE
Most of the gay bars and clubs on Ibiza are found in Ibiza Town's Old Town, Marina and port – plus along the promenade of adjoining resort, Figueretes. Many are only open May-Sept…
Bars
Angelo (Alfonso XII, 11)
Bar 22 (C./ de la Virgen, 22)
Cube (C./ Pere Escanelles, 3, Figueretes)
Dôme (Alfonso XII, 5)
EXIS (C./ de la Virgen, 57)
JJ Bar (C./ de la Virgen, 79)
Kitsch (C./ Ramón Muntaner, 26, Figueretes)
Leon (C./ de la Virgen, 62)
Magnus (Paseo Maritimo, Figueretes)
Mona Lisa (Alfonso XII, 3)
Soap Up (Rincón de Santa Lucía, 21)
Clubs
Anfora (San Carlos, 7;)
Lola's (Alfonso XII, 9)
Sauna / Sex Club
Deep Club (Galicia, 1, Figueretes)
La Muralla (C./ de la Carrossa, 3)
Outdoor cruising
Es Cavallet gay nudist beach – 10 miles south of Ibiza Town near the salt flats, reached by the No 11 bus from Ibiza Town, hubbed around a rainbow flag and the Charingay bar-restaurant.
Otherwise, gents oft "take airs", by night, atop the Old Town ramparts behind the cathedral in Ibiza Town itself, or on the rocky/bushy Es Soto headland just below.
OTHER USEFUL CONTACTS
Award-wining low fares airline Monarch offers flights to Ibiza, during the summer season, from Birmingham, London Gatwick and Manchester airports with fares, including taxes, from £48.99 one way (£79.50 return).