Quentin Harris offers up his Sac•ri•fice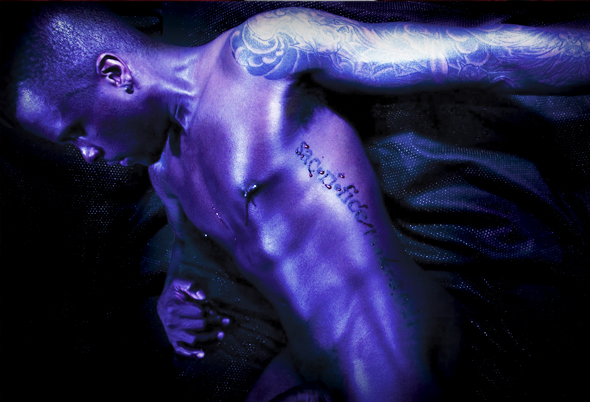 "Sometimes you have to do things that are 'in your face' just to get people's attention.
It's good to give people what they're not expecting, as Grace Jones once told me!"
Quentin Harris is inimitable, a talented, outspoken, over the top and fabulous personality, the kind of guy that you want to hang around with at parties, he gets your attention in a good way and it's no wonder that Grace Jones gave him that advice.
Expertly bridging the musical roots of his Detroit upbringing with his New York state of
creativity and it's so obviously apparent, it's in his genes. Look out world, Quentin Harris is here, he's in your face and he's got a brand new album.
This month sees the release of his sophomore album, "Sac•ri•fice", the follow-up to "No Politics", a collection that encompasses Harris' widescreen house vista. "It has taken me two years to make "Sac•ri•fice" he confides. "There was a year of frustration because of writers block and also, I was hearing a lot of records that I felt were copying my sounds. I was challenged with trying to come up with something new without alienating my fan base".
It's no secret that Quentin is passionate and unconventional, to the point that he goes to the extreme. Just look at his album teaser video, a live film of him getting his torso tattooed with the name of the album. The result was then photographed and used as the album cover. When questioned about his reasoning, he explains;
"I had to make many sacrifices while making the album and that's why I decided to call it that. Also, I tattooed myself in order to portray sacrificing myself for my art. Not everyone would get a tattoo put on their body like that and for me, it's a form of art and it's an expression."
The project is indeed close to Quentin's heart. He wrote and produced the album with a host of highly respected vocalists, with whom he shares the writing credits. "If I had to describe "Sac•ri•fice" sonically, I would say that it sounds like the album Prince, Murk and I would make together, if such a dream session should ever happen." It was these pair ups that brought many dimensions to the album, like the stunning track and lead single h recorded with Inaya Day. "Do The Right Thing" takes its influence from the aforementioned Murk sound, a sound directed at the dance floor with a refined production sound that makes it listenable anywhere.
"Sac•ri•fice" includes a song with dance music legend Ultra Nate, who incidentally is a close friend and inspiration to Quentin. "Give it 2 U" is a powerful track, strategically built for the dance floor and sung in Ultra's unique style. It incorporates an epic 20 piece string arrangement that gives it a larger than life feel.
Happy with the success of his past collaborations with Jason Walker ("Can't Stop") and Cordell ("Traveling"), Quentin decided to work with both of them again for "Sac•ri•fice." "Why Me," co-written with Cordell, is a slower, R & B style track which talks about a personal reflection on life when it's not going as well as he would like. As well, he recorded two songs with Jason this time. There's the remake of "Circles" made famous in the 80's by Atlantic Starr and there's also "Home," co-written with Jason. "Home" is especially poignant, illustrating the feeling of home sickness and loneliness that Quentin sometimes feels as a result of spending countless hours away from home and travelling all over the world to meet his DJing obligations. He loves all of the opportunities, but sometimes, he misses "Home."
In addition to the awesome "Apologize" with house music legend, Aaron Carl, there are also contributions from some new artists; a spoken-word song called "Paradise" with an artist named Koffee, the first spoken word track that Quentin has ever produced, a new song with Georgia Cee called "Don't U Worry" and two songs from 21 year old Drew Vision, a remake of the classic, "Baby Gets High" and the splendid title track, "Sacrifice." Quentin chose to specifically work with more male vocalists on this project, as he does not feel that they get a fair shake of the stick. "Statistically, female vocalists sell more records because you can put them in a dress, you can put make-up on them, you can dye their hair and you can put them in big costumes. You can't do those things with the males and as a result, the amount of different environments that you can use to showcase and sell them is limited". The lovers of Quentin's deep house tracks won't be disappointed because "Silence" surely satisfies and also, if you search deep enough, you might just find a special surprise. Harris' success has been built on the rare ability to straddle genres effortlessly, with productions that gracefully sit between the soulful end of the Shelter (the famous New York club) and the tougher sound that many European audiences demand. Danny Tenaglia called it "Hard and Soul" and Quentin surely lives up to it.
Ultimately, this album portrays Quentin Harris, the international DJ and Producer in a much more touching and real context. These are great songs, fit for the dance floor as well as a great listen anywhere else, with some amazing collaborations. A fusion of styles, sexily presented, it's definitely not what people are expecting.
Out 7th June – Album – Sac•ri•fice – Strictly Rhythm
Photos: Karl Giant