Johan's Blog – the sun is back again
Gym…it's a tonic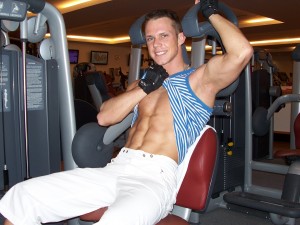 At last, the sun is back again. No more snow! Instead, warm temperatures and guys wearing shorts and tank-tops once more. Hurray! As a result, the streets and marketplaces become a cat-walk and at last you can check what sort of guy you're taking home before you get to the point of a guy dropping his thick winter coat in your bedroom. I'm not alone in having these sort of bad experiences during the colder months, I'm quite sure …
The other week I had a show in Munich with our StaxusOnTour crew once again; and, thanks to my new sports car, I arrived in the city a little bit earlier than usual. Almost unbelievably, I started at just 6ºC in Prague, and arrived, just a few hours later, in Munich to find it was 25ºC! Consequently, I immediately changed into my shorts, a tank-top and my new summer sneakers and went straight to Viktualienmarkt. Here I met some of my friends from Munich and we enjoyed a few beers together. It was just great – Friday afternoon, the sun streaming down and everyone in a relaxed and happy mood. Needless to say, I was a little bit worse for wear when I returned to my hotel; and so I needed a short nap before I prepared myself for our PopParty Porn Edition.
The day after – Easter Saturday – I was in the hotel gym, but to be honest the thought of all those delicious Easter Eggs full of chocolate was making things just a little too stressful. I know, everyone says that the Easter period is for making a bit of a pig of yourself, but the trouble is that whenever I see sweets or chocolate… pretty much nobody can stop me! Indeed, it took me the best part of two months after Christmas to get back to my regular weight of 64 kgs, and now I've added another few kilos again because of Easter. No doubt about it, hard training's what I need to knock my six-pack, legs and arms into shape for the summer
After the gym I went with my friend to a gay sauna and to be honest I didn't really feel too comfortable being there. Of course it was fun, but I actually prefer private saunas. Gay saunas – especially the place where I went – was not really for taking a sauna but for having sex! Indeed, in almost every corner and cubicle there were guys sucking and fucking each other. What's more, they all seemed to be moaning so loud that I thought I must be on the set of some cheap Russian gay porn movie! As such, our plans for a relaxed afternoon and some intimate cuddling were most definitely ruined. Instead, we had to make do with watching the activities going on all around us – although in fairness that was arguably even more interesting! Indeed, I must confess that there were some really cute twinks in that sauna that day and I actually became quite horny myself and had a real urge for a short sharp fuck. As it was, however, I was there with a friend and had to control myself – although horny thoughts (not to mention hand-jobs!) are surely always allowed, aren't they …?
Did I tell you that I'd booked a short holiday – 2 weeks in the (hopefully) sunny Canaries. As a result, by the time you read these words in Bent magazine I shall be sitting with my ass on a beach and my hands on a cold beer … or (even better) on some cute twink in the dunes! Oh yes, life can be very hard sometimes!
The island in question – and we all know which one I'm talking about – is just perfect for a vacation. Just jump onto the next southbound plane and 4 hours later you're there enjoying the African sun. Okay, so it's not exactly the cheapest place there is, but sometimes you just need a short break to recharge your batteries.
I always combine my holidays with a little bit of work, so I'm planning to do a nice photo-shoot or two on the beaches, and maybe 2 or 3 scenes for my site. As such, no-one can say that I'm a lazy bitch on my holidays! What's more, outdoor shoots are always fun – though I just hope we'll be able to find some quiet places. I remember last time, about six months ago, when we had about 30 to 40 people standing around our set, watching me wank and fuck, culminating in a round of applause after the cum-shot! It's almost comical, but even in the loneliest sand-dunes on the island you will always find some gays out cruising for action!
Please feel free to follow my holidays with the latest blog entries and photos on my site: www.Johan-Volny.com
See you soon!
Kiss Johan