Europe's Top 10 Gay Friendly Hotels
TripAdvisor®, the world's largest and most popular travel community, has announced its top ten gay and lesbian-friendly hotels in Europe, based on TripAdvisor editors and travellers. Following the recent sad news of a Berkshire B&B turning away a gay couple, you can be sure of a warm welcome at any of these hotels.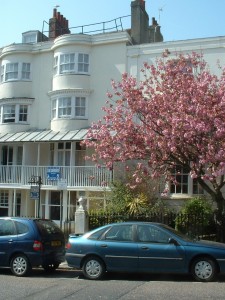 1. Colson House, Brighton, England
Colson House is a uniquely themed boutique hotel dedicated to the big screen – all hotel rooms are named after movie icons. Located in the heart of Brighton's vibrant gay scene, the owners, Mark and Eamon, go the extra mile to make your stay memorable. As one TripAdvisor traveller said, "I stayed here with my partner and had a lovely time. We stayed in the Judy Garland room, which was tastefully decorated and not OTT at all."
2. Hotel Sejour Beaubourg, Paris, France
The Hôtel Séjour Beaubourg is located in the very centre of Paris, only a few steps from the Centre Georges Pompidou and within walking distance of the Louvre and Notre Dame. The Séjour Beaubourg offers comfortable rooms featuring bright and modern design and free Wi-Fi.
3. Hotel Axel, Barcelona, Spain
This design hotel is close to the exclusive boutiques on Passeig de Gràcia and boasts a swimming pool, gym and sauna. As one TripAdvisor traveller explains, "I spent a week with my husband and it was great, fantastic environment for gay or straight couples and for singles. Perfect location and very close to the centre of the city."
4.Hotel Ca' Dogaressa, Venice, Italy
In a picturesque corner in the heart of Venice, Hotel Ca' Dogaressa overlooks Canale di Cannaregio. Its traditional Venetian rooms boast period furniture, rich fabrics and precious marbles.
5. Clarion Hotel Prague Old Town, Prague
This modern property is the only four-star hotel in Prague that has membership of the IGLTA (International Gay, Lesbian, Transgender Association).The hotel is located in the city centre, close to the river Vltava and within easy walking distance of the tourist sites of the Old Town.
6. Ty Rosa, Cardiff, Wales
Ty Rosa, Welsh for 'pink house', offers a warm welcome to all, whatever your sexual orientation. A 15-minute walk from Cardiff city centre, this charming, gay-run, boutique guest house with free Wi-Fi offers stylish rooms and an excellent breakfast.
7. Hotel Deutsche Eiche, Munich, Germany
The Deutsche Eiche (German Oak) is one of Munich's oldest meeting places for gay and lesbian visitors with a reputation for attracting creative and arty types. Less than 700 feet from the Viktualienmarkt, the hotel welcomes everyone. The trendy Glockenbach district, the Marienplatz and the banks of the Isar River are just a few steps away. As one TripAdvisor traveller explains, "A great gay/lesbian hotel. Good food, great location, nice and spacious rooms, cheap, very friendly staff and an extraordinary gay sauna."
8. The Golden Bear, Amsterdam, Netherlands
The Golden Bear claims to have been the first gay hotel in Amsterdam, founded shortly after the Second World War. The hotel is located in two historic buildings dating back to 1737 and is situated in the very centre of the city close to all the main attractions. As one TripAdvisor traveller said, "I would really recommend this place to anyone looking to spend some quality time in old Amsterdam, whether gay or straight."
9. Los Almendros, Playa des Ingles, Gran Canaria
Los Almendros is a complex of private bungalows designed exclusively for gay and lesbian travellers. The hotel is located in the most gay-friendly part of the island, in the middle of Playa del Inglés and just a few minutes walk from the Jumbo shopping centre where you can find wonderful restaurants and gay bars.
10. Hotel Sachsenhof, Berlin, Germany
Hotel Sachsenhof is one of Berlin's oldest buildings dating back to emperor times. Else Lasker Schüler wrote her famous poems here and the building was the setting for Erich Kästner's story "Emil und die Detektive". Famous sights such as the Ku Damm are easy to reach within a few minutes. As one recent TripAdvisor traveller explains, "Friendly and extremely helpful staff. Leather and fetish wear no problem and as two gay guys travelling, we felt very at ease and the location is excellent."