Hello Sailor: Royal Caribbean Cruises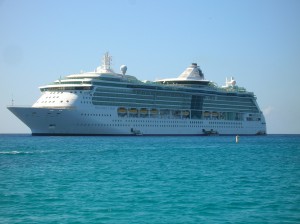 Adrian Gillan enjoys the big cruise experience aboard gay-wooing Royal Caribbean International's amazing Brilliance of the Seas.
90,000 tonnes; 300 metres long; 2,500 guests! Royal Caribbean International's 13-deck mid-size Radiance-class ship, Brilliance of the Seas, is jaw-dropping enough even pre-sailing – viewed from the port – its balcony windows and glass-clad central atrium dazzling in the sun.
Moreover, Royal Caribbean have definitely got the big-ship experience down to a very fine art – one might almost say science, but that would scarce credit the genuine warmth and enthusiasm emanating from all staff and crew. You enjoy seamless airport pick-up and luggage-drop, plus swift transfer and light refreshments, even before the hassle-free gangway check-in and boarding of your ship!
And what a ship! Even if you are lucky enough to be on a longer cruise, there's no shortage of onboard attractions, pastimes, entertainments and culinary delights to fill your days and nights between ports – such variety, you can sample numerous new experiences each day yet still have countless more in store.
After our early rise and flights to Barcelona for our Mediterranean sailing, my partner and I would have, normally, been only too glad to rest for a while on the firm double bed in our sizeable stateroom with big balcony. However – scanning the listings sheet of daily events and dining options, that would be placed in our cabin each and every day by our extremely helpful cabin steward – we could hardly contain our excitement and just had to get stuck in to our first grand tour of this mighty ship.
We were to spend the next few days enjoying some of the finest cuisine we've ever tasted, afloat or ashore, both in the main two-level Minstrel Dining Room and in speciality restaurants like the laid-back New York-style Chops Grill (try their signature Mississippi Mud Pie desert); or superb Italian, Portofino. Indeed, we were never allowed to get peckish at any time throughout the voyage, with the quality and quantity of fine, freshly prepared food pretty much constantly available – at the more informal Windjammer Cafe, from breakfast onwards; or at sundry other eating-points.
And when we weren't eating, we were just relaxing. The light, warm and humid Solarium deck was a particular favourite – with its colonial Raj-style décor, sun-loungers, indoor pool and roll-back glass roof; and its easy access to both the main outdoor pool area and indoor Fitness Centre and Day Spa, the latter with its gender-segregating saunas and stream areas plus other treatments. Treat being the operative word: go on, treat yourself to a 2-hour-long full-body massage and mud-wrap!
The captain – who had a very sexy voice, which he used to effortlessly update us every day on the tannoy, in countless languages – steered a steady course, avoiding the roughest waters and following the sun where possible. The shore excursions were all impeccably organised – Valetta in Malta proving an especial highlight – and injected a nice rhythm to punctuate an otherwise ship-bound life.
By day, the more active can try their hand at rock climbing (trust your rope-puller to make light work of it), table tennis or mini-golf; play traditional card or board games in the Calcutta Card Club; shoot pool in the Bombay Billiard Club, complete with Harry Potter-esque self-levelling tables; purchase a Rembrandt or Picasso print in the Art Gallery, or via auction; buy photos taken of yourselves, quite possibly on the evening of the formal dinner; or peruse the tempting shopping mall, flashing Video Arcade or fluttering Casino Royale. Alternatively, one can sit with a, doubtless ship-themed, novel in the Library; take in a recent release in the cute little cinema, screening all day long; or sip coffee in lower Latté-Tudes or the upper Seaview Café.
By night, the ship takes on a warm, animated glow and, apart from eating, guests can savour one of several West End-standard shows in Brilliance's large and comfortable Pacifica Theatre. Or they can drink and chat at any of the numerous onboard drinking holes, such as the self-evidently named Champagne Bar; the vast and lofty Lobby Bar in the main 9-story central atrium; the smoke-smelling, ahoy-mateys Schooner Bar; the Scoreboard Sports Bar or – our favourite – the duo of joints in the rear-end Colony Club, namely the Jakarta Lounge and Singapore Sling's. You can even dance the night away up in the Starquest disco and adjoining Viking Crown Lounge, complete with revolving bar!
Any gay guests, whether couples or singles, can rest assured that Royal Caribbean have a zero-tolerance or intolerance, amongst both guests and staff, the latter clearly having undergone extensive training to make all feel utterly welcome – from cabin and dinner arrangements to every aspect of ship-life. This means, primarily, that you can just mix in with all other guests and be yourselves; and, in the unlikely event you encounter any difficulties, simply report it and know it will be dealt with immediately.
Although integration is the order of the day, many gay couples and singles do hook up with each other to socialise. A nightly gay drinks area was informally advertised on our ship. And singles – whether gay or straight – also have their own social events and group dining options available, should they want them.
For sailings direct from the UK, try Independence of the Seas, which will be based out of Southampton from 25 April 2010 onwards.
Photos: Richard Kent