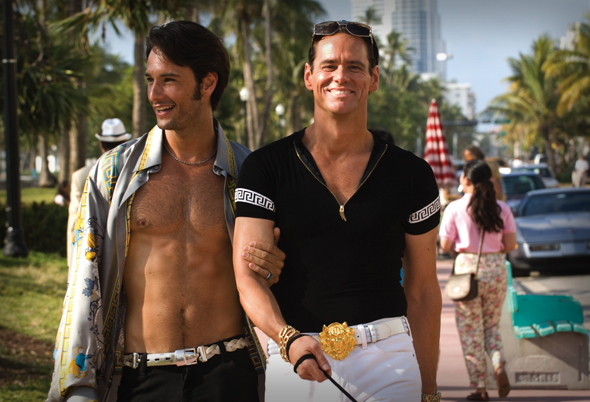 For his latest role Hollywood legend Jim Carrey stars in the incredible true story of gay con artist Steven Russell. 'I Love You Phillip Morris' is the amazing story that tells of a former straight copper who – following a car accident – decides he's gay and live life to the fullest, which eventually sees him end up in jail. There he falls in love with sensitive soft-spoken Phillip Morris, played by Ewan McGregor.
I believe that you didn't get to meet the real Steven Russell, so where did the inspiration come from for this amazingly flamboyant performance?
Steve McVicker, the gentleman who wrote the book, went for me because he had a relationship (with him) and he was allowed at the prison and he did recordings for me, so it's quite fascinating to listen to him, and to listen to what excited him, and to actually listen to his dialogue about the movie happening which was the inspiration of his life at that time. He was very excited about it you could tell and about the choice of Ewan for his lover, very excited. He's smarter than all of us. He's dangerous in that way I guess. Never hurt a soul but in solitary confinement for the rest of his life. It's incredible… an incredible story and he should be hired by the government. He'd do a better job in intelligence than they've been doing so far, as long as he was controlled… I think it would be a great job for him…!
How daring can it be for a well-known American actor to play a gay character?
Hmmm…I don't really care…and I'm Canadian….no no no. I don't really care about a reaction if there's a negative reaction. I care about doing a story about amazing and fascinating people. It's unbelievable that it ever occurred and it's real. It's a true story about love and someone's relentlessness to find it and keep it.  I want to play people, you know, human beings… and this is an interesting human being. The bottom line is that the quest for love is everyone's and he's just another person…
I understand that you needed to lose quite a bit of weight for this role, can you tell us what that was like?
The process of losing that weight was pretty tough… you'll notice I'm pretty skinny in some scenes… but the process boiled down to the last week or so I was really only having these little tomato drinks every once in a while.  I had water and supplements so I could stay alive but there was really nothing of substance…in the last two days , before the main shots I just stopped eating completely and had a little taste of water
With acting, I guess it's always a bit like you're wearing a mask –  you're always being funny and energetic, in which of your films can see the real Jim Carrey?
Every one of them…I mean it's all me so, everything I do is me.  if I go over the top it's me, if I'm quiet it's me. I'm all of that and I'm so insanely lucky that I have stumbled into a life where I can be all of that and I can get a chance…and Luc (Besson) will allow me to make a movie like this…and believe that I can be believable.
'I Love You Phillip Morris' will be in cinemas nationwide on 17th March