Rio and Madonna = Paradise
Terry George Tellin' Stories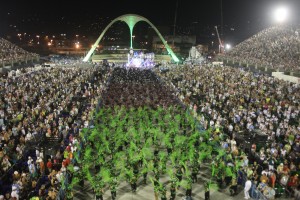 2010 marked my 9th year of photographing the fabulous Rio Carnival, the highlight of my calendar. The only downside is I took 8000 photos – I'm beginning to think I might have an illness! I hope there are one or 2 good shots within that.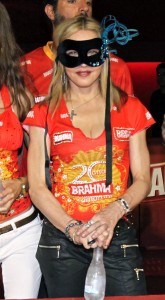 Although I went to cover the carnival parade I became obsessed when I heard Madonna was spectating and found myself pointing my lens for an hour and a half through a whole samba school at Madonna to try and get some pics. She's someone I've always wanted to meet and I view her as a goddess of the music industry.
She was just 70 yards away from me on the balcony of a VIP box. She was the guest of the Governor of Rio Sergio Cabral, and was with her boyfriend, model Jesus Luz together with her daughters Lourdes and Mercy. The couple had apparently broken up 2 weeks before but it didn't look like that to me because she was running her hands through his hair and the pair seemed smitten. She seemed so small when I got up close to her, and I think she looks amazing for a woman of 51.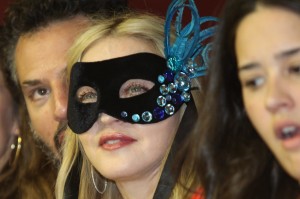 What did surprise me was that she came down from the VIP area with the Governor to within touching distance of me to mingle and get involved with the carnival. Normally only competitors are parading around down there.
Most of the public couldn't see her but she was centre of attention and ambushed by photographers and security, which caused a huge scene because they weren't paparazzi just taking carnival pictures. I felt really sorry for her as she couldn't move or enjoy it – it's taking intrusion too far and it must be so annoying that you can't do normal things.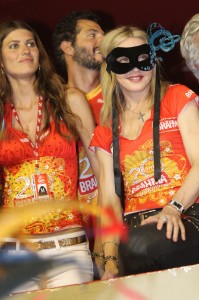 I couldn't think what to say, I was the only other English voice nearby so what came out was the first thing that came into my head. "Madonna – you're boyfriend is beautiful." I shouted over the throng. She replied "Thank you." Of course, looking back I'm thinking what a berk I was… there are so many things I could have said if I'd had time… or a brain?
She moved onto another area of the Sambadrome, which in my opinion didn't give you the best views. She surprised me as she changed outfits into a Brahma beer t-shirt, I wouldn't have thought she was up for such blatant publicity. Her boyfriend wore the same too. They weren't drinking the beer though, just bottles of water.
When a float went past with a Michael Jackson impersonator on, Madonna went wild for it. It was eventually the winning float, a win for the Unidos da Tijuca samba school their first in 74 years. The float was led by a seven year old girl, the youngest to ever lead a samba school float but she was overwhelmed and tearful with all the attention from the photographers. It also caused something of a controversy in the media as the lead role is normally filled by scantily clad models.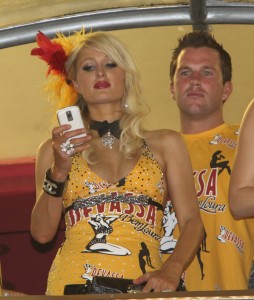 Paris Hilton was there but not even watching the parade just playing with her iphone. It appeared as though this lack of appreciation to the hard work of those taking part was pointed out to her and she put it away to enjoy the parade. Like Madonna she was all over her man, Doug Reinhardt. I didn't get that close to her, but that didn't disappoint me too much.
What did disappoint me was when I saw other photographers with pictures of actor Gerard Butler who I really admire and was dying to meet.
But low and behold we went for breakfast at the Copacabana Palace with my friends the next day and there he was. I asked him if he enjoyed the carnival and he mimicked me in a Yorkshire accent. I also asked him if he'd seen Madonna and apparently he introduced her on stage. He said he'd loved it and thought the entire event was fantastic.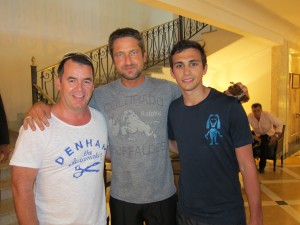 I wanted to know how he got the amazing six-pack in the film 300 and he told me he'd had to take water tablets and they painted him up too. He said he was in no rush at all and happy to oblige… so I got some pictures with him. He was so friendly, but I was still shaking as I took his picture.
There was a man on a rocket who caused quite a stir… and quite a racket. He launched himself right in front of me and I've never heard anything so loud, it scared me to death. He flew right over the floats and the crowd loved him. He had 2 fuel tanks on his back but kept having to land and change them as they only last a very short distance.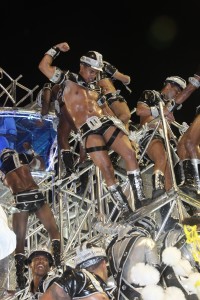 The original Brazilian Pool Party just gets better and better. It takes place in a fabulous outdoor space in Rio with a great view of the Guanabara Bay, the Sugar Loaf and Christ the Redeemer from the pool. The event has gained a lot of popularity over the past 5 years with both the local hotties and guys in town from other cities. It's a late afternoon "Tea Dance" that usually goes from around 4pm until 4am. We usually have fun at this event. The place is bedecked with things likes giant colored sea horses and other sea creatures, tropical fruit and some typical Brazilian food all topped off with special Brazilian drinks like "caipirinhas" and served around the pool!
I travelled from Leeds to London by rail with East Coast Trains. I always find easier than flying down as the journey only takes just over 2 hours. Advance return fares, booked online, start from £23 Standard Class or £94 First Class: book via East Coast, call 08457 225225 or visit any staffed station
Flights to Rio were with British Airways. Book well in advance if you're thinking of flying during Carnival period.
Buy your tickets for the carnival at www.carnivalservices.com
[photospace]