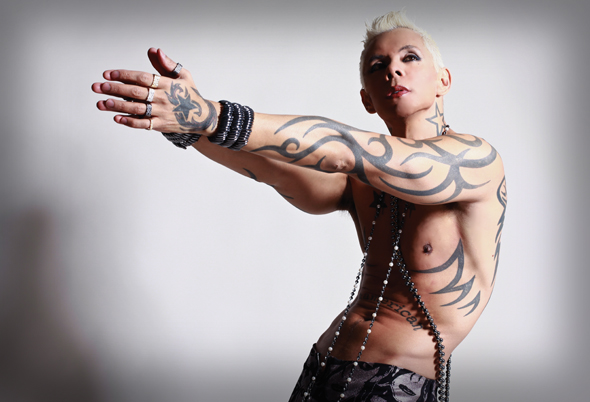 By Leif Johansley
Raven O is the definition of enigma.  Known worldwide for his starring role in Cirque Du Soleil's Zumanity, Raven O is a master at captivating audiences. On stage, he is the son of the devil one minute, a soul wrenching swan singer the next.  His performances are fearless, provocative and often times off-the-wall.  Raven O gets away with comments most entertainers would not dare say, like labeling women larger than size zero, "fat (f*$+#~g) bitches". Even his insults have fans rolling in the aisles.
Seven year-old Raven O knew his hometown of Oahu, Hawaii was too small for him.  He had his sights on the Big Apple. At 18, he entered and won a dance contest with a first place prize being a roundtrip ticket to New York City.  He later learned the organizers did not have enough money to cover a return trip. They offered Raven O a one-way ticket and he took it – never looking back.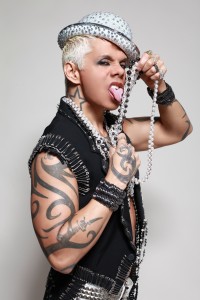 Upon arriving in NYC in 1989, Raven O became a fixture in the downtown club world.  He sung in dark, seedy underground cabarets and burlesque theatre houses.  To make ends meet, he go-go danced.  In fact, Raven O has the distinction of being the first male go-go dancer at New York's famed Limelight Nightclub.  His notoriety grew when he began touring with Sylvain Sylvain of The New York Dolls.
Raven O lived the glamorous New York life, mingling with the likes of Grace Jones, Keith Haring, and Joey Arias. With sex and rock-and-roll came drugs. Raven O fell to crack and to support his habit, he became a prostitute, combing for tricks at hustler dive bars.  The drugs and prostitution deadened him.  To this day, Raven O barely remembers much of the early 90s.  He says the only place he felt alive was on the stage.
Cirque Du Soleil was a major turning point for the performer.  After being recommended by his best friend Joey Arias, the troupe invited Raven O to host their Zumanity show in Las Vegas.
The Sin City promised a brand new era of fabulousness for Raven O.  He reflected on the amazing super stars that had performed the Vegas stages: Frank Sinatra, Dean Martin, and Elvis.   On his first step inside a casino, however, he knew he had made a huge mistake.  He felt trapped among obese herds of pink skinned monsters eating foot long hotdogs, guzzling extra large cups of soda, and smoking cigarettes.  The strip was fake, plastic, with no soul, no art… a vast and utter waste land.
Still, Raven O enjoyed performing ten shows a week.  It was a grueling schedule but Raven O says he would have done 20 shows… anything to keep him off the strip and on the stage where he belonged.
In 2007, after three long years in Las Vegas, Raven O returned to his love – New York City – to host Andre Balaz's 50th birthday party.  Simon Hammerstein, grandson of Oscar Hammerstein, directed the show and was so impressed by the performance, he invited Raven O to mc his downtown theatre, The Box
The Box was to Raven O what Club Babalu was to Ricky Ricardo.  It was life changing and career-defining.  Not only did Raven O star in the risqué burlesque show, he choreographed and helped create it. His run lasted two and a half years, attracting celebrities like Jude Law, Sting, Josh Lucas, Lindsay Lohan, Mary J. Blige, Allan Cumming, Kevin Spacey, Kate Moss, and Simon Cowell. Through ten performances a week, including an 8pm dinner show and a late night show that continued until 3:30am, Raven O never missed a performance.
Throughout his career, there is little Raven O has not done.  The one thing left to tackle has been recording an album.  A prolific songwriter, Raven O always had it in his mind but with a seemingly non-stop show schedule, the time never seemed right.  Until now.  Raven O is preparing to release his first musical cd this summer.  He will preview the album this spring with a special pre-release of "Heaven" (out now), a cover of the classic Psychedelic Furs song.
Call Raven O a freak.  Call him androgynous.  But do not label Raven O.  As any enigmatic character, Raven O is best left undefined.
Photo: San Sierra