French Trio
Bored of Paris? Adrian Gillan heads south to sample the art, design, fashion, culture and scenes of three lesser-known gay-wooing Gallic gems: Montpellier, Lyon and Saint-Etienne.
Montpellier: Often described as the "second gay city of France", plus one of the largest student cities of the country, the capital of the Languedoc-Roussillon region – the hilly city of Montpellier – has a quarter of a million inhabitants, or double that if you take in the wider metropolitan area. A millennium old, it is situated 6 miles inland from the Mediterranean coast – on the aptly-named River Lez!
Stay at the well-positioned Mercure Montpellier Centre (218 rue Bastion Ventadour; T: +33 (0)4 67 99 89 89;). Fine dine at modern yet informal Le Carré (3 place Saint Ravy; T: +33 (0) 4 86 46 50); classy Italian L'Arezzo (8, rue de l'Herberie; T: +33 (0)4 67 54 70 79); or atmospheric Divine et Sens (2 impasse Périer; T: +33 (0)4 67 54 12 30).
Take in the main Place de la Comédie with its 19th Century grandeur, hotels and theatre; the medieval old town warren of narrow hilly little streets around the Place des Martyrs de la Résistance; city high-point, the Place du Peyrou, with adjoining Triumphal Arch; Vegas-like, neo/pseudo-classical Antigone district; and Musée Fabre , one of France's most visited art collections.
Montpelier has long-spearheaded the French gay rights movement, including recent national calls for gay marriage. Its 6th annual Gay & Lesbian Festival, Bleu Blanc Rose, is set to run in Nov 2010. Busy city-centre bars include Café de la Mer (Place du Marché-aux-Fleurs); and buzzing, dancy Heaven (1, Rue Delpech). Main club, Villa Rouge is a short drive out, open Thurs-Sat, midnight to 5am.
Whilst in the area, head a little south and east, down towards the Med, for some fine small towns, beaches and resorts. Plage de l'Espiguette includes a gay-friendly naturist stretch. Secrets de Camargue, is a gay-wooing 4* resort near Le Grau-du-Roi and Port Camargue, offering excellent facilities, plus rental units and tent pitches. Maison Méditerranéenne (3430 Route de l'Espiguette, Le Grau-du-Roi;) sells regional wines, foods and crafts.
Whatever you do, don't miss out on the unique medieval-walled town of Aigues-Mortes. Lunch at its Café de Bouzigues (7 rue Pasteur, 30220 Aigues-Mortes; T: +33 (0)4 66 53 93 95;), a colourful eatery with large rear patio. Even sojourn at the classy Villa Mazarin (35 boulevard Gambetta, 30220 Aigues-Mortes; T: +33 (0)4 66 73 90 48;).
Lyon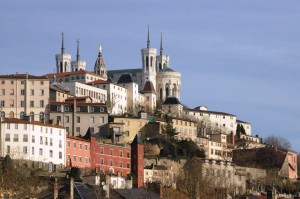 Situated in east-central France, at the confluence of the Saone and Rhone rivers, Lyon is a city in the region Rhône-Alpes – in between Paris and Marseille, both in terms of geography and size. Strategically important since pre-Roman times, two Roman emperors were even born here: Claudius and Caracalla!
Lyon is proudly and rightly known as the French capital of gastronomy; and has also played a more-then-significant role in the history of world cinema: courtesy of Auguste and Louis Lumière!
Stay at the small, elegant Grand Hôtel des Terreaux (16 rue Lanterne; T: + 33 (0)4 78 27 04 10;). Dine at typical central Lyon gastro gem Le Bouchon des Filles (20 rue Sergent Blandan; T: + 33 (0)4 78 30 40 44) to give your buds a thrill; or at superb Maison Clovis (19 boulevard des Brotteaux; T: + 33 (0)4 72 74 44 61), just south-east of centre.
Take in the hilly UNESCO World Heritage St-Jean and Croix-Rousse districts – the former being on the west bank of the Saone, dominated by the Basilica of Notre-Dame de Fourvière and the 1894 "mini Eiffel" Tour Métallique de Fourvière. Across the river, enjoy the Musée des Beaux-Arts de Lyon and Opéra National de Lyon; plus the expansive Place Bellecour, a little south. Maybe time your visit with the Contemporary Art Biennale, next due in 2011.
Lyon boasts too many gay bars and clubs to fully list, but you would do well to kick things off at L' Etoile Opéra (26, rue de l'Arbre Sec), warm things up at cosy club United (Impasse de la P'cherie), and raise the roof at Pinks (38, rue de l'Arbre Sec).
Saint-Etienne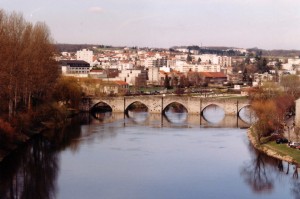 40 miles southwest of Lyon, also in the Rhône-Alpes region, Saint-Étienne is a small city in eastern central France, in the Massif Central.
Stay at the lofty Hôtel du Golf (67 rue Saint Simon; T: + 33 (0)4 77 41 41 00;) just outside centre. Dine at informal L'Absynthe Café (23 rue Léon Nautin; T: + 33 (0)4 77 21 28 80); or at cosy Restaurant l'Impala Lounge (4 rue Ruchelandière; T: + 33 (0)4 77 47 54 19).
Explore the largest urban European site realised by designer Le Corbusier, comprising a stadium, church and revolutionary housing block! Browse the Modern Art Museum (rue Fernand Léger, 42270 Saint-Priest-en-Jarez; T: +33 (0)4 77 79 52 52;). Enjoy exhibitions at the City of Design.
Catch a show at the Opera Theatre, notably during its Jules Massenet Festival, celebrating this, the birthplace of the great composer. For more contemporary fare, check out Le Fil (20 boulevard Thiers;) – a state-of-the-art centre dedicated to electro and contemporary music.
Saint-Etienne is also awash with gay life and culture. Time a visit around the festival "Autrement Gay" (next due in June 2010); or visit the town's Gay and Lesbian Film Festival, held at the Cinema Le France (8 rue de la Valse; T: +33 (0)6 29 43 01 20;), normally every November. Whatever, booze at Le Zanzy Bar (44 rue de la Résistance); and dance at Le Planet (17 rue Honoré de Balzac).
EasyJet operates daily flights from London airports to Montpellier and Lyon.