Welcome to Boyztown Pattaya Thailand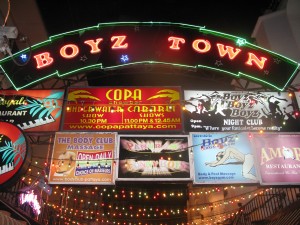 Pattaya is Thailand's main beach resort town, about 2 hours drive southeast of Bangkok on the Gulf of Thailand, and one & half hours from the International Airport.
It is a big, bustling town with tourists and resident ex-pats from all over the world. There are many gay and gay friendly hotels that will make you feel welcome and it has an almost exclusively commercial gay scene, centred mainly around "Boyztown".
Many say Boyztown is the Blackpool of Asia… but with the heat… and it has to be said, that the place has everything you could possibly want without the tower. By day the place has a long beach on which to relax, taking in the gorgeous swim-suited guys or enjoying a Thai massage but as the evening draws on, the colour and life's blood of the resort comes to life.
Boys Boys Boys is the place to go for fabulous drag shows hosted by the lovely Jim.
With lavish frocks, glitter décor and sparkling setting, the venue really does get you in the swing for a party. As well as the drag is the gorgeous parade of Thai cuties dancing and twirling their supple bodies to the best disco beats.
No matter where you go in the town there is always gay entertainment in one form or another. Everywhere has a show, even the lads on the street corners want to show you what they've got… and for a few Thai baht they are happy to share it with you.
There's a new super club called Nab which has quickly become one of the places to be seen. This is the place where the Thai non working boys go to but still has a huge compliment of hot and sexy dancers and models with bodies to match.
There are a lot of willing 'boys' in Pattaya who offer their services through the go-go bars, or on a 'freelance' basis. After an introductory chat and a few drinks, an agreement may be made to leave an establishment with a partner, and, if a fee is involved, this will usually be negotiated beforehand.
Some people despair at this side of Thai culture, others see it as a way of finding a partner, other's regard it as a fact of life. Thailand is a beautiful country and for many visitor it's just… Paradise.
There are a multitude of bars, go-go clubs, saunas, gay-friendly cafes and restaurants but often the turn around, name changes or they just close down means that keeping an up to date list is very difficult. Check online for current venues.
With thanks to The Ambiance Hotel: located just around the corner from the beach and right in the middle of Boyztown, is Pattaya's premiere destination for the most discriminating gay traveller.