Babylon in Bangkok. (Thailand)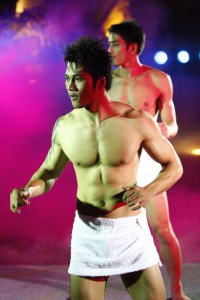 By Darrell Hirst.
Few capital cities can regard themselves as on a par with Bangkok. Thailand's main urban centre is simply excess in all of its unrestrained glory. Bigger, better, more; the city is insatiable, a monster that feeds on its people, its smells, its tuk-tuk exhaust and carries poverty and extravagance as easily as religion and repression. Mainly a Buddhist culture where smiles and sà·nùk (the Thai word for 'fun') and a few Thai Baht… are the key passports into Bangkok life.
The best place to start your Bangkok experience is the fabulous Babylon Complex. Set just slightly away from the gay Bangkok streets, it's popularity and pulling power as the-place-to-be is signified by the stream of taxis that constantly arrive at its plush entrance to unload visitors from all over the world.
From the genuine greeting at reception from the hotel boys you know that you are in for an experience of a lifetime. Babylon has everything. A huge, and incredibly busy sauna, a large glass fronted gym where locals as well as guest pump their muscles and sweat as they rep those heavy weights. The sight of all those firm torsos, bulging pecs and gorgeous guys is worth a visit to the complex on their own. In the bars and restaurants a very international clientele chat amiably with each other and the locals and, with regular events and parties by the pool, the fun and festive atmosphere soon reaches a hot and dynamic crescendo.
Should you want to visit the city's night life beyond Babylon – the gay bars, clubs and entertainment is but a short taxi or tuk-tuk ride away
Babylon offers accommodation at all levels. From the cheaper bed & breakfast rooms with communal showers (a favourite with many guests) to the fabulous penthouse apartments. Each suite has been individually designed and furnished yet all reflecting the unique Babylon Style; a bold and sophisticated fusion of Thai and Western interior decorative inspiration, which makes extensive use of natural materials. Classical and modern, traditional yet contemporary; these suites take the concept of accommodation to a new level of elegance, sophistication and comfort.
There are areas to relax and with a bevy of cute professional masseurs you shouldn't miss out on the opportunity to experience something that you wont forget for a long time. Meanwhile, and for those who are interested in such things, the complex and rooms are virtually completely wi-fi accessible but, I would argue that if you are sat at your computer… you are not experiencing everything that Babylon has to offer… a veritable pleasuredome of taste… and fun… and freedom.
Bent would like to thank everyone at Babylon for the attention they received on their recent visit. In particular the General Manager, Sak and Adrian, the Marketing Manager both of whose enthusiasm for the complex was very contagious… we just cannot wait to return.
www.babylonbangkok.com
34 Soi Nandha, South Sathon RoadSoi 1, 10120

, 

Bangkok

, 

Thailand.