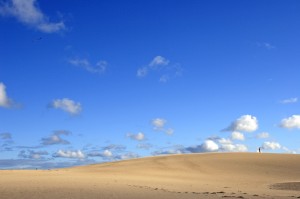 Loved Lanzarote? Tried Tenerife? Done Gran Can? Adrian Gillan samples that other volcanic Atlantic Spanish island idyll off the African coast: glorious Fuerteventura!
It might not be the biggest Canary – it's second to Tenerife on that count – but Fuerteventura is definitely the longest, measuring 60 miles from Corralejo in the north to Punta de Jandia in the south; and is just 8 miles south of neighbouring Lanzarote and scarce 60 miles west of the West African coast.
Invaded by Spain six centuries ago, Fuerteventura's current 80,000-strong resident population has become increasingly dwarfed, since the 1970s, by an invasion of tourists seeking its year-round warmth and sunshine – plus cooling, steady breezes, so perfect for wind- and water-sports. This influx has brought a degree of financial security, plus the odd maverick call for independence from the motherland!
Corralejo Beach Hotel (Víctor Grau Bassas 1; T: +34 928 068 000;) – Stylish gay-friendly 4* hotel on the north western tip of the island, just a one minute stroll from the main "downtown" beach in buzzing Carralejo. Excellent pool, grounds and eatery.
TO SEE & DO
NORTH
Bahia Vital Spa @ Gran Hotel Atlantis Bahía Real, Corralejo – Choose from seventeen treatment areas and rooms, including heated swimming pool with a sub-aquatic massage circuit, shower temple, hydro jet, Turkish baths, sauna, oriental rasulbath and outside Jacuzzi, plus fully equipped gym. Treat yourself to a hot stone massage or cleansing hamam ritual!
Parque Natural de las Dunas – Europe's very own Sahara! Large sandy dunes bordering the sea just south of Corralejo, brimming with wildlife – including the human kind!
Isla de los Lobos – Nature reserve just off-shore from Corralejo, easily reached by boat, and perfect for a secluded 3-4 hour round-ramble!
Lanzarote – Fuerteventura's famous volcanic neighbour lies mere minutes north of Corralejo by regular high-speed ferry, docking at the pleasant resort of Playa Blanca.
Cueva del Llano – Fascinating volcanic lava-flow tunnel and cave system, also home to unique insect species.
El Toston – Historic garrison tower on rocky cliffs overlooking charming fishing village, El Cotillo, just 15 miles south west of Corralejo. Near fab beaches, many nude.
La Oliva – Picturesque town 10 miles south of Corralejo, full of interesting 18th Century architecture, including the delightful gem that is the Casa de los Coroneles, the island's HQ for two centuries. A little further south lies the distinctively pyramidal "Sacred Mount" Tindaya, from the top of which one can, on a clear day, see all the way over to Mount Teide on Tenerife.
Puerto del Rosario – Fuerteventura's capital city, with its promenade beach complete with lime ovens, brand new cruise port and Las Rotondas shopping centre. Check out the El Cangrejo Colorao restaurant (C/ Juan Ramon Jimenez, 1 Puerto del Rosario; T: +34 928 858477), boasting traditional Canary food.
SOUTH
Betancuria – Historical oldest settlement of all the Canary Islands. Important sites include the San Buenaventura Convent, Archaeological Museum and Santa María de Betancuria church. Also check out the wonderful Casa Santa Maria restaurant with its magical interior and courtyard.
Vega de Rio Palmas (Valley of Palms) – Ancient route of settlers and pilgrims, this lush literal valley of palms is an oasis winding through an otherwise dry and barren landscape, and dotted with picturesque villages, and atmospheric restaurants like Don Antonio.
Ajuy – On the central west coast, dramatic black sandy beach beneath fossil-dune cliffs plus caves.
Jandia Peninsula – Mountains, wildlife and stunning beaches: the southern peninsula of Fuerteventura has it all! Enjoy La Barca beach, the new Mirador de Los Canarios viewing-point, the Esquinzo-Butihondo area (including fab Marabú restaurant), Morro Jable, plus sundry sandy beaches.
Caleta de Fuste – Important touristic centre, featuring castle, beach and golf courses.
TO BOOZE 'N CRUISE
Corralejo…
C.C. Sol Atlántico – Since the recent closure of Bubbles bar, local gays have generally shifted a few yards over to mixed Dorada bar and Mafasca club, both in the C.C. Sol Atlántico, between the high street and beach – especially later on at night, post 2am, when queer hotel staff clock off.
Corralejo Grandes Playas – South of Corralejo lies the 11 km long dune area of the National Park (Parque Natural de las Dunas de Corralejo). Naturists use the quieter parts of the beach just south of the Tres Islas hotel.
Elsewhere…
More secluded bits of almost any naturist beach!
OTHER USEFUL CONTACTS
Award-winning low fares airline Monarch offers year-round flights to Fuerteventura from Birmingham, London Gatwick, London Luton and Manchester airports with fares, including taxes, starting from £53 one way (£90 return). Monarch also offers a unique range of tasty hot and cold meals onboard, with prices from £3.00. Seats can be pre-booked at £7.50 per one-way flight to avoid the last minute free-for-all experienced on some other airlines; or, for only £25, extra-legroom seats are available, with up to six inches of extra space. Passengers travelling on scheduled flights can also avoid the queues at the airport and take advantage of online check-in, available between seven days and 4½ hours prior to departure.
Spanish Tourist Office: PO Box 4009, London , W1A 6NB; T: 020 7486 8077; F: 020 7486 8034; E: info.londres@tourspain.es