Sharp for 15 years! By Jason Guy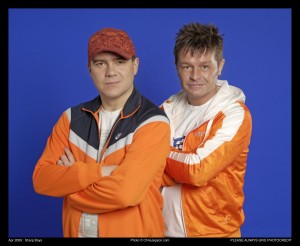 2009 is the fifteenth anniversary of the Sharp Boys foray into the music industry as a partnership. It was December 1994 when George & Steven  joined forces to set up their 'Sharp Recordings' label. As a DJ and production duo, they're probably best known for their residency at the most hedonistic of club nights, Trade at Turnmills and in recent years DJ residencies at Orange and A:M at Fire and Beyond at Area in London.
"My grandfather was called George Sharp and my middle name is Sharp," says George. "When we started the label 15 years ago we toyed with various names before settling with  Sharp. It made perfect sense as it kind of described the sound of our percussion. It's as simple as that."
Recently celebrating it's 19th birthday, Trade has had a rocky few years, which is such a shame for a clubbing giant. I ask the boys what they think went wrong. Steve immediately jumps in, "I don't think anything in particular went wrong with Trade, but after an amazing run of eleven years every single weekend in the same venue, which is an incredible achievement, it needed to take a small break as a weekly event to evolve into a new version of former self."
"The effort that went into every party was immense but some of its dedicated crowd of loyal 'Trade Babies' had grown up and wanted different non-clubbing Sunday mornings. It's a generation thing I guess. I have so many amazing memories from that era, like the morning Fat Tony invited Bjork down one Sunday to the 'Lite Lounge'. She was really sweet. Or playing a Subliminal record to look up and see head honcho Erick Morillo dancing beside the DJ Box… we had met in New York a few years before and Lottie had brought him down to say Hi – great guy, he is one of my House Heroes."
"It was very nice to be invited back recently for Trade's 19th Birthday at Ministry Of Sound for a special 'Lite Lounge' set – which was a lot of fun and working with Laurence (Malice – Trade founder) again at the 'Orange Trade' parties at Fire has been a total pleasure. And Trade is coming back for its traditional Christmas Day party… this time at Fire."
George smiles, "Christmas Trade is always one of my clubbing highlights of the year!"
Steven butts back in. "We will have four rooms open with the star DJs of both clubs in attendance and a lot of surprises in store for all our party elves…the planning meetings have been great fun and both camps our very excited about the night. We will open at 10pm on Christmas Night and close very late into Boxing Day morning!" Sounds like my kind of party!
2009 has been an incredibly busy year for The Sharp Boys as they moved into the club promoting world once again with incredible results. In March Steven overtook responsibility at Fire's (Vauxhall, London) flagship Sunday night 'Orange' and launched his own night 'Tabloid' in September.
"The whole idea with 'Tabloid' is to offer something totally fresh and unique for Gay clubbing on Saturday nights with a selection of International Headliners, Rising Stars and Scene Royalty, all playing together behind the decks together as never before. You can't fail to notice the UK's obsession with celebrity at the moment and it is the perfect template for a club concept."
"I want to bring names that you don't normally get to hear on the gay scene, like Tall Paul and Sneaky Sound System, who were absolutely incredible last month with a full 1 hour live show, Connie is such a star! I have Boy George headlining at the next party at Fire on Boxing Day, which should be another roadblock following his recent 'Orange' appearance – he is one of a kind and totally stole the show."
So, what do the boys think of the current state of the gay clubbing scene in our capital city? "I think the recession has created a reality check for clubs in general," says Steven. "People are very careful as to when and where they part with their dosh, they simply can't afford to go out three or four times a week like they did a couple of years ago. This has meant club promoters have to work even harder to create unique events to encourage attendance. House parties, cheap supermarket alcohol plus the smoking ban have all had a major impact on clubs, but you have to battle on and offer value for money clubbing."
"I'm happy to say my 'Orange' & 'Tabloid' parties have so far gone really well and I get a lot of great feedback from the clubbers who see we put a lot of work into the parties. Some promoters think it's as simple as putting an advert in the gay press and the clubbers will follow. It's not as easy as that; you have to plan and prepare, be original and creative. I have total respect for my customers and always strive to create a fun atmosphere for everyone."
The Sharp Boys will be DJing at 'Orange Trade' on Christmas Night, 'Tabloid Boxing Day' on Saturday 26th December, 'The Final Orange of the Decade' on Sunday 27th December (All at Fire) and 'Royal House @ Popcorn' at Heaven on Monday 28th December. Find out more by entering 'stevenreactsharp' on Facebook.
Photo: ChrisJepson.com