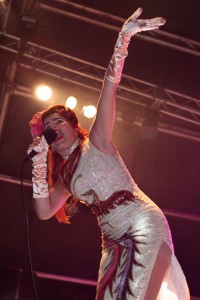 Paloma Faith is the latest in a long line of female singers who have made their mark this year. Her debut album, Do You Want The Truth Or Something Beautiful, slipped unannounced into the Top 10 and brought with it her colourful persona; drawing on diverse influences from music, literature, art and cinema.
Recently, in the matter of just a few weeks, we saw you gyrating the night away in Blackpool with Alan Carr, appear as a panellist on The Buzzcocks… then topping it off by discussing politics with Michael Portillo and Diane Abbot on BBC2's late night political spot This Week… so which is the real Paloma?
"All of it." She giggles as she explains in her quiet childlike manner about one of the reactions to her appearance on This Week. "Someone in the Independent wrote that I was like a child whose parents had brought them down at a dinner party to entertain the guests… I thought it was funny."
Meanwhile, up in Blackpool, Paloma joined chatty man Alan Carr in turning on the town's famous Illuminations and performing for the appreciative crowd. Later she was seen at the Flamingo club, leading the funny man in a hectic night of dance. "He's an absolute sweetheart…. Although, I think I gave him food poisoning. I went round to his place to cook him and his boyfriend dinner… unfortunately, we then all had a bit of a bad stomach and I was so embarrassed I haven't dared call him." She composes herself from her obvious guilt. "I'm actually a really good cook so I just think it was bad luck."
Paloma, who says she relaxes by watching arty style films can also be seen in a couple of movies at the moment. St Trinians and the Terry Gilliam's meisterwerk, The Imaginarium of Doctor Parnassus. "I love Terry Gilliam, I have seen everything he has done. It's the type of film I'd go and see myself" What about the Rupert Everett led St Trinians? "It's funny but probably one I wouldn't go and see."
With the current influx of singers from talent shows like X Factor, Paloma is keen that the industry doesn't lose some of it's other talent. "These shows are about singers, and that is one thing but there are a lot of others out there like me, who write all their own material. I think what the British are great at is song writing and it's a shame if our industry gets completely over powered by talent shows because we could be in danger of losing a part of the British heritage."
Unfortunately, the only show that seems to showcase this talent is the Eurovision Song Contest… "Well yes… and that's not really up to scratch is it?  It would be hilarious if we entered a song by The Enemy one year wouldn't it?" That idea would certainly give the show more standing to the majority of the UK viewing public but what about Paloma herself… if asked… would she take up the challenge?
"I'd be up for it."
Her album: Do You Want The Truth Or Something Beautiful is in the shops now and in March 2010 Paloma will be headlining her own tour.
16th             Dublin, Vicar St
17th             Glasgow, ABC
19th               Manchester, Academy
20th                Leeds, Academy
21st                Newcastle, Academy
23rd               Cambridge, Corn Exchange
24th                Birmingham, Academy
25th                 Southampton, Guildhall
26th                 Bristol, Academy
28th                 Oxford, Academy
29th                 London, Shepherds Bush Empire